K-Pop Couple Fantasy: BTS's JiMin and Red Velvet's SeulGi
All aboard the SeulMin ship, cause netizens are all hyped up with new dating rumor 'evidences'!
One of the hottest K-Pop couple fantasy is all the rage again as netizens collect more alleged evidences of the two's blossoming love. The possible pairing began when BTS's JiMin revealed that he would like to become friends with Red Velvet. Fans jumped on the ship and began searching, who? JiMin's ideal type was revealed to be someone with mono-lid eyes, long black hair, and a pretty smile. SeulGi fit the bill! SeulGi also revealed that her ideal type was someone who had mono-lid eyes and a pretty smile… JiMin?!
So the famous mono-lid beauties became a ship and set sail into the SeulMin sea. The pairing was cruising calm waters when the two idols' names resurfaced to the top of various search engines! Fan cams arose that allegedly showed JiMin and SeulGi making contact more than once over the multiple award ceremonies. The photos' angles show the idols bumping shoulders, stealing quick glances at each other, checking each other out during performances, and even sharing a quick wave!
Must Read : K-Pop Couple Fantasy: Red Velvet's SeulGi and MONSTA X's JooHeon
Is this all true? We'll probably never know, but it's always fun to fantasize!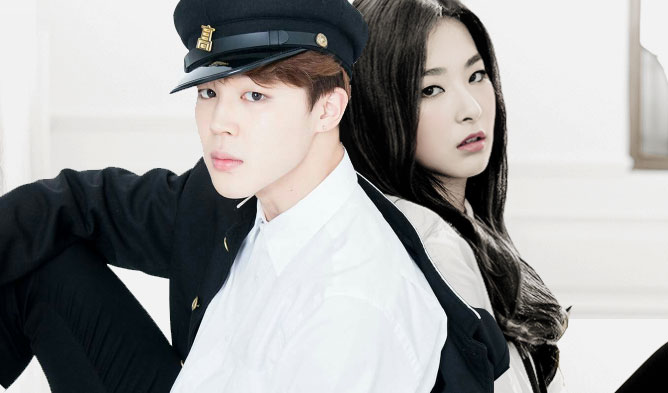 SeulGi x JiMin's Story:
The Alleged Couple Items
The Wave (ft. Jin's meaningful pat on JiMin's head)
The Couple's Dance
GIF
GIF
The Shoulder Bump (ft. SeulGi's quick glance)
What's SeulGi Been Up To?
SeulGi is back on the music train with Red Velvet's new album, "ROOKIE"! The album dropped just a week ago, so she's busy fulfilling her various music show schedules, variety show schedules, event venue schedules and so much more. Would she really be able to date in between her non-stop hectic life?
What's JiMin Been Up To?
JiMin's gearing up to release BTS's special edition of "WINGS". With the ridiculous amount of love and success that they've achieved, the boys will be returning much sooner than expected to give thanks back to their fans. The new album's photo images have already dropped, and the official release date is all set for February 13th, 2016!
Will Our Fantasy Couple's Paths Cross Again Soon?
Coincidence or no? BTS and Red Velvet will be promoting in the same cycle again! Red Velvet are already well underway in their promotional events, and BTS will be joining the hectic schedules with their special edition of "WINGS". That means same music shows, possible same featured guests on variety shows, radio shows and more!
What other fantasy couple do you think would look so good together?