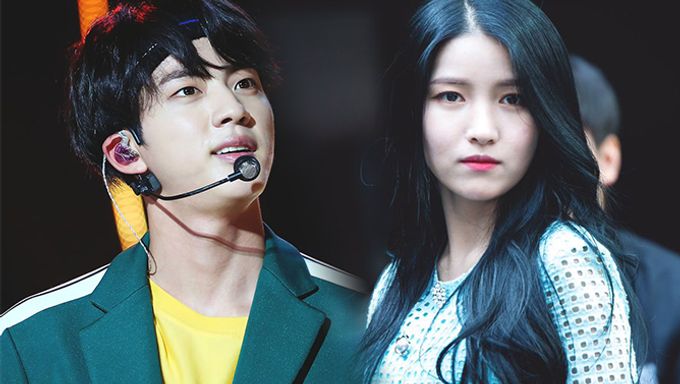 Some netizens sensed something going on between BTS Jin and GFRIEND SoWon. Is this true?
Anyone captured the outstanding chemistry between BTS and GFRIEND on 'Sorry Sorry' performance at DMC Festival? On that stage, the two groups showed off their perfect harmony and teamwork like one group. After that stage, every single music awards, Jin's reaction videos on GFRIEND SoWon's acceptance speeches have been popular. You can see one of them, below.
Fans are enthusiastic toward these two cuties! Two of them have long legs, so some of fans are calling them as long legs couples or sowjin couple. But, still you aren't satisfied? Then, here's what made fans fall for sowjin couple! Let's get it!
In 2016 MMA, BTS's Jin received a water bottle from a staff. Next, what did he do? As he was well known as a gentle man, he passed it first to the girl behind him, who is SoWon of GFRIEND. You can see how sweet and kind Jin was here. Always he cares about another first, rather than doing for himself. 
More than just getting attention for his kindness, this video clip succeeded to created a new couple. Why was it SoWon? He could pass it to others but he selected her. Here's the point: Jin cares much about SoWon!
To fans who had kept an eye on them, this is not a surprise. Because even before this MMA situation, there had been a lot of scene where Jin and SoWon seemed to glance each other secretly. While waiting for next stage, SoWon couldn't look off Jin. 
Oh, you don't believe this couple story because it looks like a one-way love of SoWon? Unfortunately, Jin also kept his eyes on SoWon while she's talking in public. You can see that scene, below.
What makes this love story more believable is highly related to how Jin described his ideal type. A Japanese magazine made a female character, which mainly reflected what Jin explained about his ideal type in a interview with the magazine. Netizens keep claiming that this character resemble SoWon so much, even by a short sweep. You can compare them, below!
What Jin of BTS has been up to?
Jin is spending the busiest times because BTS had their comeback recently with "Love Yourself". Their music has been going viral, climbing up to the high ranks of diverse music charts both inside and outside Korea. Because they create so much influence and impact over K-Pop, Mnet is making a music program just for the group. The "BTS COUNTDOWN" is currently done shooting, but the date of it's broadcast is not official yet. 
What SoWon of GFRIEND has been up to?
GFriend made a hot comeback this summer with 'Love Whisper' and they are walking on a fine path since their comeback. We cannot imagine Kpop without GFriend, however, there was a time when they grout before so well known. 
What other fantasy couple do you think would look together? Let us know!
Must Read : K-Pop Couple Fantasy: BTS' V & BLACKPINK's JiSoo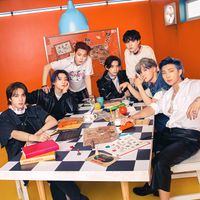 Became a fan of BTS
You can now view more their stories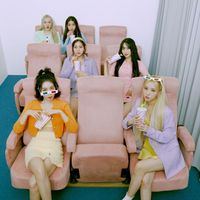 Became a fan of GFriend
You can now view more their stories