K-Pop Couple Fantasy: BTS' V & BLACKPINK's JiSoo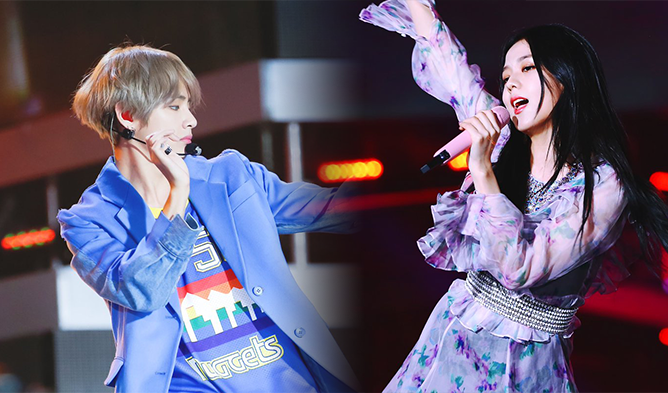 Have all the K-Pop lovers watched the Super Concert held in DaeJun? What did you see through out the concert? I know there have been a lot to see, different stages of idol groups from diverse entertainments, special stages and collaborations. Yes, the contents were more than abundant. But those aren't the answers we are looking for right now. Think hard.
Okay, here is a hint. Who showed the greatest chemistry that day?
I'm sure it's hard to deny the chemistry between V of BTS and JiSoo of BLACKPINK was noticeable, or maybe even remarkable. After the Super Concert was over, a new word was created. TaeSoo. I believe everyone knows what that word means. The two of them along with JinYoung of GOT7 hosted the whole event pretty smoothly. Their flow was too smooth to believe that it was their first time hosting something together! 
Not to mention their eye contacts and shy smiles. 
It's true that fans like to match idols with other idols and it may end in their fantasy. However, JiSoo and V's chemistry was too good to end as a fantasy! The two young people are both so gifted and talented in music, are both passionate workers and are both so attractive! It's now only about their perfect looks, but the smiles they throw, things they say that makes fan fall in love with them. They've both got those charms which draw people to them. 
If they both have such charm, why don't they just draw themselves closer to each other?! Or maybe they have!
Here are some of the Taesoo moments that fans made. Nothing would be better if these photos turned out to be a real life story.
V & JiSoo's Story:
We could name the first array of photos as "The Hard Working Couple". Both are so stunning and knows when they shine the best. Two lovers would understand each other since they work in the same field. They would know what hardships their partners are going through and console them. 
They've worked hard enough to deserve a break! A casual date in front of the house or near cafes still can be sweet and relaxing. A walk around the park with two holding hand must look like a picture not a reality. 
Exotic dates can be enjoyed. Imagine the two enjoying the amusement park or traveling to another country together. They may even look like a newly wed couples! 
If someone asks, why we are going so far with these two, look at the picture below and tell me.  Even though they may not have been close before the event, after this much of eye contact, anyone has a possibility to fall in love:) 
170924 대전 인기가요#뷔 #태형 #방탄소년단
마스코트 엠씨 어흥이??@BTS_twt pic.twitter.com/rSl2YYByeM

— AWESOME TAETAE (@ASOMETAETAE1230) September 26, 2017
What's V of BTS has been up to?
V is spending the busiest times because BTS had their comeback recently with "Love Yourself". Their music has been going viral, climbing up to the high ranks of diverse music charts both inside and outside Korea. Because they create so much influence and impact over K-Pop, Mnet is making a music program just for the group. The "BTS COUNTDOWN" is currently done shooting, but the date of it's broadcast is not official yet. 
What's JiSoo of BLACKPINK has been up to?
It's not been long since BLACKPINK ended their first debut performance in Japan. The debut of BLACKPINK created a master wave in the sea of K-Pop and all Japanese fans seem to be soaked in it. After the group has came back to Korea, they've been performing in different stages of music festivals in Korea. Though it was a time they were suppose to rest, K-pop music festivals just couldn't leave her and the group alone!
Must Read : BTS x Steve Aoki Collaboration In the Works