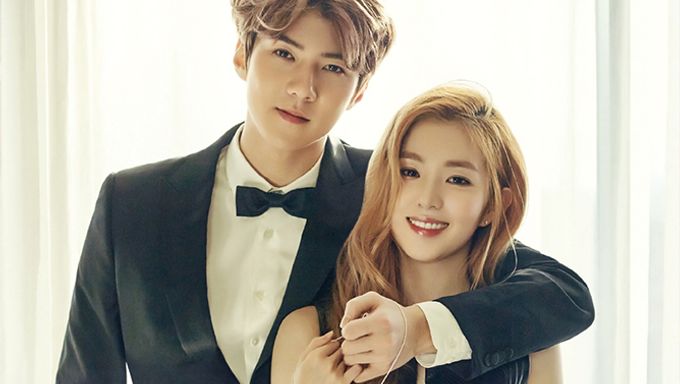 Due to EXO's comeback, we get a chance to see SeHun and Irene having activities together.
On 18th July, EXO just released a album "The War" and it is conquering all the top ranking charts of K-Pop. For a while, EXO's era seems to last. What's important here is Red Velvet also actively appears in many TV programs. Therefore, chances for EXO's members and Red Velvet's members to bump into each other officially get much higher. Between EXO and Red Velvet, you might already know, can we just pass SeHun and Irene's relation? Definitely no.
Must Read : Lovestagram Caught on Irene of Red Velvet and SeHun of EXO's Instagram
The beginning of all these related ships between both of them started when they took photo shots for Ceci magazine and school uniform promotion. Remember them showing off their perfect chemistry? Indeed, visual god and goddess's harmony could never be failed. This couple got popular as being called HunRene couple.
However, something happened in SM TOWN Hawaii work shop, 2016. Several photos capturing SeHun and Irene together in front of hotel room door was released and raised dating rumors. 
Here's some photos and videos including both of them together.
Would it be coincidence? There are too many artists in SM entertainment, so it's not easy for SM idols to have a contemporaneous activity. Maybe we have a good chance to see hunrene couple together soon. How exiting!
What's been up to EXO's SeHun?
As we all know already, EXO just released new album "The War" including 'Ko Ko Bap', 'What U do?', 'Forever', and 6 other songs. Right after releasing, every song in this album conquered the K-Pop charts. For the success of this album, all of EXO members are struggling by appearing in lots of TV programs, Radio programs, etc. SeHun is also one of those busy members. 
What's been up to Red Velvet's Irene?
Red Velvet is one of the most busies idol these days after they dropped a single 'Red Flavor' on 9th July. They got enthusiastic responses from plenty of fans, hearing that now is the best time of Red Velvet. The reason why they are praising Red Velvet is all members of Red Velvet has upgraded their visual in this time. Irene, especially beautiful one, gets popular and popular every day doing 'Red Flavor' activities. 
What other fantasy couple do you think would look so good together?