Being in the same entertainment may be a good start to get to know each other for idols. 
A good example of friendship built from having to be in the same entertainment might be HyunA and Lai KuanLin of Wanna One. On September, when HyunA released her solo single, 'BABE', she posted a photo with Lai KuanLin on her Instagram. 
What makes them so special, is that HyunA added some explanation about Lai KuanLin. She expressed that she has a good feeling toward Lai KuanLin. HyunA said, "A CUBE chick who appeared at #HyunA's first stage's behind! #Lai KuanLin came to me celebrate my first stage once, and with #Wanna One came to me one more time. There's no one handsome and even nice like him. Thanks." 
https://www.instagram.com/p/BZEfr1Hlabl/?taken-by=hyuna_ingram
In the picture, HyunA and Lai KuanLin are posing for a picture, holding her album. These couple showed off their great chemistry in the picture. As HyunA opened up, it's even the second time for Lai KuanLin to visit her personally! Also, HyunA Complimented him pretty in detail. Fans who got this news are wising that this beauty and handsome guy have multiple activity later on. 
Must Read : Idols' Ideal Type Compilation: Lai KuanLin of Wanna One
You can see HyunA and Lai KuanLin's awkward atmosphere to each other, which is seen for the better, not for the worse. HyunA's shy reaction was cute enough to make people draw a fine picture between them!
What's been up to Wanna One's Lai KuanLin?
As we all know, Wanna One is one of the busiest idol groups in K-Pop. While they keep having multiple activities, they are gearing up to drop new songs in November. A few days ago, Wanna One released a number of teaser images for comeback. The second album's title is "1-1=0 (Nothing Without You)". 
What's been up to HyunA?
After HyunA finished her solo single 'BABE' activity, she has appeared in lots of TV programs and shows. And recently, what makes her busy and popular mostly, is her appearance as a member of the jury of "The Unit" on KBS. On this program, HyunA shows her sincere encourage toward the participants in the audition. 
What other fantasy couple do you think would look so good together?
Must Read : K-Pop Couple Fantasy: MONSTA X's IM & WJSN's Luda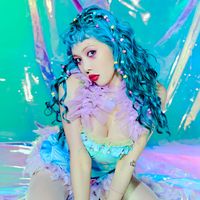 Became a fan of HyunA
You can now view more their stories