All aboard the J-Min ship of the latest K-Pop sensation overseas, K.A.R.D!
K.A.R.D has been making a lasting impression on their fans since their debut just a couple of months ago. As their fandom continually grows, they've noticed one half of the team looking very fine together. K.A.R.D fans are all about the J.Seph and SoMin being the latest hit K-Pop couple.
The rumors and gossips started when fans noticed J.Seph and SoMin being particularly close. Perhaps it's because their dance routines coincides often or because they've been training together for many years, fans are loving the eye contact, hand holding and flirty gestures that the two continually show during their music videos, performances, and appearances! Ever since their debut, J.Seph and SoMin have uploaded many friendly selfies together, and J.Seph was even seen lovingly holding SoMin's baby niece. Fans advocate that their ideal types also match each others' descriptions.
Must Read : Video )) Kpop K.A.R.D Member Official Profile
Take a peek at the fantasy K-Pop couple deemed J-Min!
J.Seph x SoMin's Story:
What's K.A.R.D been up to?
K.A.R.D recently came back with their 2nd project album, "Don't Recall". The response to the group was even more spectacular than their "Oh Na Na" debut, so the group's released a special version of the song. Their "Hidden" surprise was none other than their foreign fans! The group released a Hidden Version of the music video, and the group performs the English version of their new song. The group's also revealed their potential plans to promote overseas! We think we'll be seeing much more of our fantasy couple~
What other fantasy couple do you think would look so good together?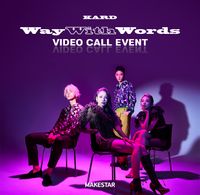 Became a fan of KARD
You can now view more their stories