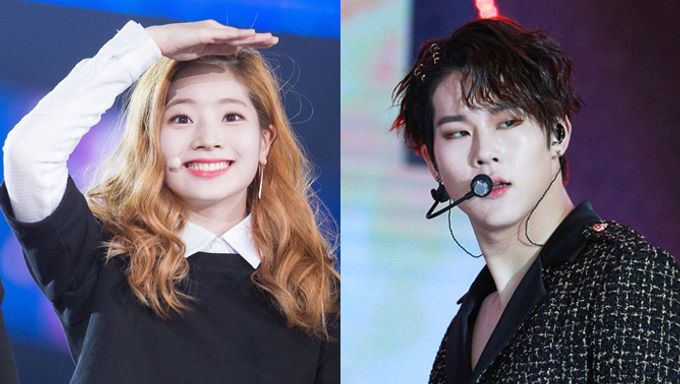 We all know that when idols from different groups get along well with each other, fans could not help but imagine the cute friendship they have! One example is MONSTA X's JooHeon and TWICE's DaHyun!
They are known for their friendship with each other especially since they attend the same church! In addition to that, they were also seen to have interactions with each other on and off stage which causes fans to imagine the cute possibilities between them.
On MBC "Weekly Idol", it was known that previously JooHeon and DaHyun were in the new corner called "Idols' The Best". During that time, DaHyun revealed that she actually attends the same church as JooHeon!
Fans also found old videos of them dancing in the church!
It seems that since both of them attend the same church, there is also a chance that they have interactions during that time.
In addition to that, on another episode of "Weekly Idol", JooHeon was dancing to TWICE's 'Like OOH-AHH'. He did it with all his heart and even DaHyun could not help but smiled at him too.
There was also other occasion when he was doing 'Cheer Up' famous dance for the part 'shy shy shy'.
It seems like JooHeon really likes TWICE's songs!
During a time when MONSTA X was doing meet-and-greet, JooHeon directly said that he prefers girls who likes rap and enjoy hip-hop music. Most fans would have already known that DaHyun is one of the rappers in TWICE.
When DaHyun was also asked in a short interview about which male idol she thought was the most popular among the girls, she chose JooHeon. She revealed that it was also because they were having the same promotional period.
Of course, we also could not miss out a time when DaHyun and JooHeon high-fived each other.
MONSTA X members were having fun with each other and when DaHyun walked pass them, fans could see that they high-fived each other.
It looks like both idols are close with each other and fans are liking the cute interactions too! Hopefully more could be seen between them in the future.
What has TWICE been doing?
TWICE came back with their title track 'What is Love?' and has been topping music charts with their song. They will also be kicking start their 2nd world tour in Seoul on May 18th 2018.
What has MONSTA X been doing?
MONSTA X has also came back with their song 'Jealousy' and even broke their own record by reaching the number two spot on Billboard World Album Charts. They will also be having their world tour starting with their first stop in Seoul on May 26th 2018.
Read More : K-Pop Couple Fantasy: BTS's V & TWICE's NaYeon