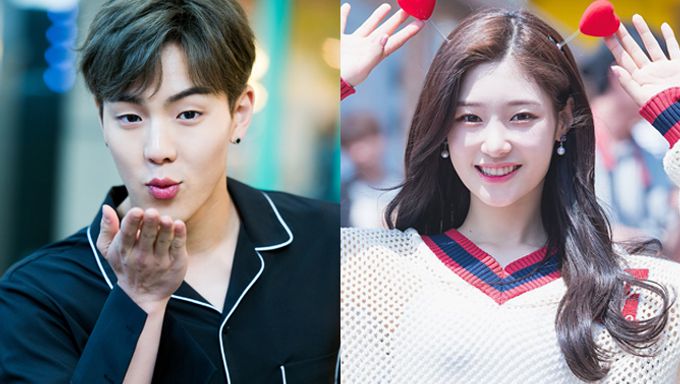 When idols from different companies and groups get together for variety shows, interaction between them is unavoidable. Some fans also pay close attention to their favorite idols during those time. One example is MONSTA X's ShowNu and DIA's Jung ChaeYeon.
They previously appeared together on Channel A "History Repletion: Oh! Cool Guys" and Onstyle "Lipstick Prince". When they were on the same show, fans noticed some of the cute interactions they had with each other.
If you watched "History Repletion: Oh! Cool Guys", you will notice the slight and subtle interaction ShowNu has with ChaeYeon.
He lightly bumped her by the side of her arm. ChaeYeon turned back and noticed that it was ShowNu.
ShowNu and ChaeYeon even took a photo together with another cast.
ShowNu also proved to be a gentleman by showing off his 'manner legs'. He lowered himself by spreading his legs so that ChaeYeon and the other cast were able to match his height.
Fans who saw that photo were commenting about how thoughtful and considerate ShowNu was.
After this, both of them met again when ChaeYeon was one of the guests on "Lipstick Prince" with fellow DIA member Ki HeeHyeon.
ShowNu helped ChaeYeon with her makeup and fans could not help but held their breath.
He placed his hand gently by the back of her head before applying blush lightly on her cheeks.
He was also smiling slightly when working on her eye makeup.
It was noted by fans that previously, ShowNu is not that careful and gentle towards other guests. However when it was ChaeYeon, he seemed to have become much more gentler. Compared to when SISTAR's BoRa appeared on the show, ShowNu had caused BoRa to feel scared and uncomfortable with his abrupt actions.
Moving on, ChaeYeon talked in detail about her ideal type when she went on SBS "Laws of the Jungle". She shared that she prefers someone who she can talk to easily and also has a sharp jawline.
Does this ring a bell for anyone? It seems like ShowNu fits into the categories she prefers.
Of course, we did not miss out on ShowNu's ideal type too. He prefers someone who is kindhearted and has long hair.
Although there are not much opportunities to see each other often since they are from different companies, chances are higher when they are promoting shows at the same period.
Despite that being said, fans are shipping and loving this two idols. What do you think about them?
What has MONSTA X been doing?
MONSTA X has began their second world tour with the first stop being in Seoul on May 25th. They will be heading to Europe and other countries on June 16th to meet and greet their fans. Check out the full schedule here.
What has DIA been doing?
DIA has recently celebrated their 1000 days of debut and will be coming back on July 5th 2018.
Read More : K-Pop Couple Fantasy: MONSTA X's JooHeon & TWICE's DaHyun