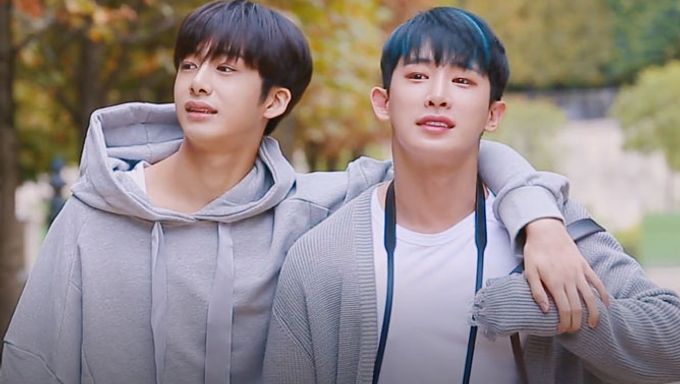 Let's start by celebrating the existence of 'HyungWonHo couple'. "Knock Knock Ja DeuReoGamNiDa/I'm going in now" (MONSTA X's 'Trespass' song). The couple will win your heart.
MONSTA X's muscular WonHo and model HyungWon form the HyungWonHo couple. Monbebe all know about this shipping that is already blooming for years. Several fanfics were written as well.
HyungWon is known for his funny faces, the source of plenty of hilarious memes, and WonHo for his lively and playful personality. They have a complex relationship: enemies, friends, brothers, co-workers but also 'lovers'. They like to play tricks on each other and take cute revenge. It is much like a love-hate relationship between those two handsome idols. Sometimes, they are cute, sometimes hot and sometimes somewhat very funny with their childish pranks on each other.
Read More : K-Pop Couple Fantasy: Wanna One's Kang Daniel & Ong SeongWu
Get ready to discover everything about their relationship!
Are you ready for the crazy couple?
We cannot help but notice their everyday chemistry. WonHo clinging to HyungWon is just so cute. It is not only in one direction, HyungWon also grabs a glimpse at WonHo as often as he can.
Apart from their day to day agenda and activities, fans noticed HyungWonHo interaction on stage. Recently, they even had a duo unit for 'From Zero', their performance was very much appreciated by fans. The stage was held during their world tour and plenty of fancam could take this moment in videos.
Their friendship does not have limits. They like to bother each other. WonHo teases HyungWon and HyungWon teases WonHo, it is both ways.
We can not forget to mention their 'couple items' and common -strange- sense of fashion.
There is definitely much warmth and closeness in their relationship.
From their trainees days to recent comeback, HyungWonHo keeps showing awesome couple moment and huge chemistry either on stage, on TV or on V-Live broadcast.
What's MONSTA X been up to?
MONSTA X is one of the main K-Pop groups, one of their hit songs are 'HERO', 'Beautiful' and ''DRAMARAMA' among others. Each member now has a solid stage presence. During their reality show, they bring huge laughter to fans with 'MONSTA X-RAY' season one and two. Members also attended shows on solo such as MinHyuk in 'Law of the Jungle', ShowNu in 'Lipstick Prince', HyungWon in the drama 'Jeong Nam Hyung' and I.M. and JooHeon did solo track, etc.
MONSTA X is getting ready for their new album "The Connect", the comeback is planned on March 26th. Check below teaser poster of WonHo and HyungWon.
Shipping HyungWonHo right?