First thing first, let's just say "OngNiel is science!" 
In Mnet "Wanna One GO", just like fans' wishes, Wanna One's Kang Daniel and Ong SeongWu came to be a team by chance. It's a moment when all the fans around the world yell the same words, "OngNiel is science!". You don't know what this means? It's Okay, cause Kpopmap is going to break it down in detail from now here.
Firstly, OngNiel means the couple Ong SeungWu and Kang Daniel. The origin of this couple's chemistry began since Mnet "Produce 101 SE2" aired. Two of the highest ranked boys, Ong SeongWu and Kang Daniel showed off their lovely and mischievous charm through the program. Fans welcomed all those cute situations that Ong SeungWu and Kang Daniel created, and finally, named them as OngNiel. They both look alike puppies. Nobody doubts that these cute puppish idols' attractive points go higher especially when they're together.
Secondly, then what it means that 'science'? Some of you guys probably guessed it. There was a series of furniture CF, launching a catchphrase "The bed is science". It literally means that bed products of that company are super high-end. This catchphrase has been parodied by people, and finally, OngNiel harmonization claimed they are 'Science' by themselves. Ong SeongWu and Kang Daniel eventually acknowledged that they have crazy chemistry.
Must Read : K-Pop Couple Fantasy: I.O.I's Jeon SoMi and Wanna One's Lee DaeHwi
You can trace down OngNiel's lovable history here from Produce 101 trainee days.
These two cutest guys always followed around each other's shadow. Among those many boys, both of them are looking into only each other. How lovely and cute! 
Besides, two of them have posed the same postures. You can see them below.
One day, several paparazzi shots were released. They made fans totally believe OngNiel couple. They boasted their deep friendship even though it's off the records and those moments got captured.
Here's a problematic picture of them saying "OngNiel is science!" (LOL)
You can see more OngNiel moments below! How lovely they are XD
Suddenly, there popped out a news making fans' heart beat quickly! In next episode of "Wanna One GO", Ong SeongWu and Kang Daniel will lie on the same bed together...! O<-< (I'm satisfied enough to feel okay if I'm dead)
What's been up to Wanna One?
Wanna One is the busiest idol group in Korea RN. Whenever you turn on TV you can see them everywhere. Wherever you go, you can listen to Wanna One's debut song 'Energetic' and other songs from speakers and background music. You can tell Wanna One is the best group for now. They officially just debuted, though, conquered every music chart and TV variety program. Among those boys, Kang Daniel is the 1st winner in the final votes and getting more popularity from people for his attractive performing and looks. Ong SeongWu also has showed off his perfect singing, dancing skills and humorous character through lots of programs. Vote is finished but their power to graze new fans doesn't seem to come to the end yet.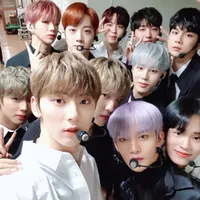 Became a fan of Wanna One
You can now view more their stories