Have you ever thought of decorating your room like the one in K-Dramas? Here is a new episode of Kpopmap's K-Pop furniture series.
This time we will talk about the drama "Dear My Room" also called "EunJoo's Room". The drama tells the story of EunJoo who is repairing her own life as she lives the way she wants while enjoying interior design. Ryu HyeYoung and Kim JaeYoung are the main actors.
This drama main subject is how the space you are living in is impacting how you are living. The main character of the drama, EunJoo, is learning with the viewers the importance of the "home" and the interior. Through this drama there are many things you can learn about interior design.
Seo MinSeok (Kim JaeYoung) an interior designer talked about the importance of having decent lighting in your house. He changed EunJoo's light.
Just changing your house light might be the start of a new happiness.
Here are some light advice if you wish to change your light too as the drama advises it. Each room is different and the type of lighting should be chosen according to each room space and furniture.
1- Floor Lamps
If you have a large space in your room, it is advisable to have floor lamps. You can highlight a sofa or a frame. The good point is that since it is easy to move it will not disturb you for cleaning and by diming light you can have various atmospheres.
2- Pendant Lamps
Made out of steel, plastic, fabric, and glass pendant lamps are of various forms. It is good to place by the kitchen table or above your desk.
3- Table Stands
Table stands are also a good way to customize your room. You can place it next to your bed or your desk. In a small space, it is an efficient way of lighting.
4- Bracket Lighting
Bracket lightings are lights that stuck on the walls. It can light up the wall and the ceiling. It permits to light up your dull wall. Be careful to put the light high enough so that your body cannot touch it.
Read More : K-Pop Furniture: Decor Ideas To Customize Your Room Like Kim MiSo In "What's Wrong With Secretary Kim" Drama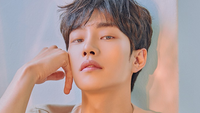 Became a fan of Kim JaeYoung
You can now view more their stories