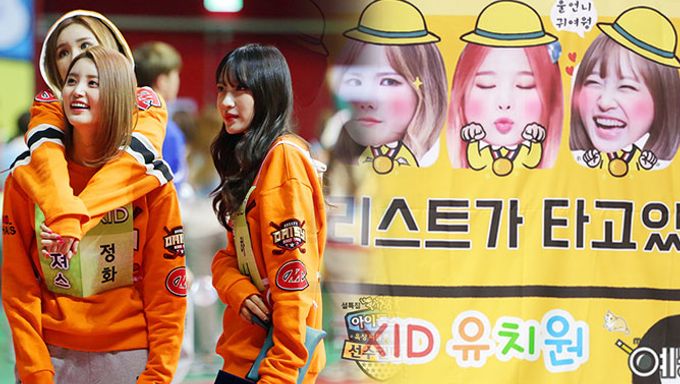 Which K-Pop Idol group would you cheer for at the 2016 Chuseok festival's "Idol Star Athletics Championships"?
The ISAC for the 2016 Chuseok festival recently finished its filming. Over 20 of the most popular K-Pop groups came out to compete for the gold medal, where they jumped, shot, ran and wrestled their way to glory.
Must Read : MBC's "ISAC" 2016 Chuseok: Lineup (Updated)
The blazing competitions between the hottest idols are only possible through the cheer of their fandoms. The K-Pop fandoms came prepared to the championships with light sticks, cheer chants, coordinated outfits, and more. One specific cheer item always sticks out from the rest though - cheer banners. The fandoms are masters at creating the wittiest and most thoughtful cheer banners for their idols. Through inside jokes and vibrant colors, the cheer banners give strength to our favorite idols during their time of need.
Which fandom had the best cheer banner at the 2016 Chuseok ISAC? Take a look below to see just how creative and humorous our fandoms can be!
EXID: "Gold Medalists On Board", "EXID Kindergarten"
BLOCK B: "BLOCK B today should ... stay low again"
B1A4: "Mother, I'm soo sorry I came to see B1A4 for the Chuseok holiday" 
Mad Town: "Mad Town! Fill my #emptiness with gold medals"
MAMAMOO: "The archery legend from Rio... again at ISAC" 
Lovelyz: "LoveliNus: Lovelyz on the green screen (Naver)"
B.A.P: "B.A.P That's my Jam ISAC"
SONAMOO: "ISAC so good! I LIKE U gold medal!"
VIXX: "Aduult Sexy VIXX"
Hello Venus: "It's ok. Hello Venus who are running well! When gold (medal) falls, that's Paradise~!"
U-KISS: "U-KISS We don't expect any medals... Don't get hurt and play with Kiss Me"
TWICE: "(On Naver search bar) TWICE gold medal, TWICE victory, TWICE don't get hurt, TWICE TWICE let's do well, TWICE <3 ONCE"
APink: "Savior to win medals at the ISAC. My APink are my Pin-Soonys"
GOT7: "What's so important about GOT7's athleticism? Run with Agasae (baby bird, sounds like I GOT7) wings. Chirp Chirp"
BTS: "BTS with gold medals... BIG! Hit It's a hit!"
Oh My Girl: "Oh My Girl" "For a gold medal A-ing~ <3"
MONSTA X: "from MONSTA X" "To. MONBEBE, A gold medal is... something when you wait and wait... and just when you're about to die... you win just one... a gold medal"
KNK: "Let's get our height's worth, KNK"
ASTRO: "ASTRO is currently adjusting to ISAC... Tip: Variety skills that are hard to find in a rookie OK ready!"
SNUPER: "Swing | Snuper Fan" "Hey Snuper" "Do well at the ISAC~"
BtoB: A memory from Seollal, We came to reclaim that day's honor. (ft. YookMong, SeoEunMal)"
WJSN: "WJSN vicory is a secret"
Heo YoungJi: "YoungJi is ddoon doon, ddoon ddoon again today" "Winning metals very well~"
FIESTAR: "FIESTAR's set value = victory" "There's a connection with winning medals"
Melody Day: "2016 ISAC for film shots gold medals..." "Melody Day has nothing to lose"
GFriend: "Best Play GFriend NAVILLERA"
Kim DongJun of ZE:A: "Like20100115 #KimDongJun #DuringCompetition #PantsRip"
"Kim DongJun the Love"
UP10TION: "Reaction wealthy UP.10.TION" "Camerman Hyung #TodayIsPerfect" to close in on UP10TION" "#Watching_UP10TION_Makes_You_Feel_Good/Funny (Good spelled as Joke in Korean, because of similar sounding)"