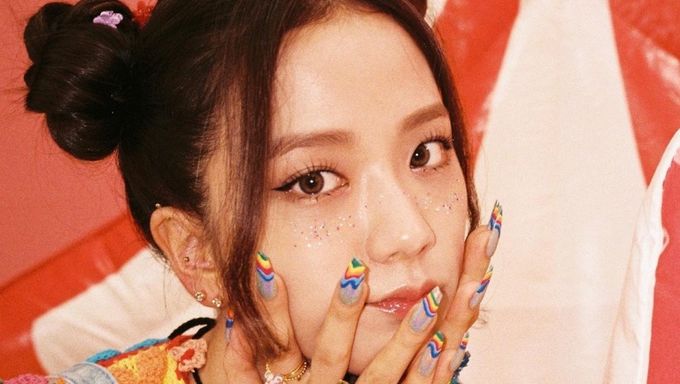 Looking down and seeing pretty colors and designs is always a nice feeling. That's why so many people get their nails done or do them themselves. Although it can be hard to decide on a design when there are so many choices.
K-Pop idols are known to often have colorful nail art. Many fans notice and use it as inspiration. So we made a list that you can use as well! Here is some K-Pop idol nail art that you should try!
In the music video and teasers for BLACKPINK's special English single 'Ice Cream', the girls are seen with many different sets of colorful nails. JiSoo was especially excited to show hers off on her Instagram. For this picture the caption read, "my favorite nail in ice cream mv."
As you can see the nails are coffin shape, long with curved edges but a squared-off tip. They also feature great summer colors like red and white with some added glitter and stickers. JiSoo's nails also have fun designs which include heart stickers, a sticker of a princess, french tips, and checkered patterns. These nails have a lot going on, but JiSoo made them look classy and fun, but if you want something a little more simple try picking only one of the designs. Like the red french tips, they are a classic summer look!
HwaSa is well known for her nail art, especially since she wears them quite long. Most people in Korea wear their nails relatively short, so in contrast, hers always stick out. Longer nails also make it easier to have nail art, as there is more space to work with. In this post from HwaSa's Instagram her nails have a viper painted onto them!
From her index finger to her pinky the snake is slithering away. There is a reason HwaSa has these nails, if you look at her jewelry they are also snakes! She is doing an advertisement for the viper jewelry and decided to include her nail art as well! Her nail art is definitely unique here, but if you are looking to do something special this will definitely have people talking about your nails!
Lee HongGi has actually released a nail book, entitled Lee HongGi Nail Book, though you can no longer buy it. This means HongGi has a great interest in nail art, the book is 144 pages long and contains tips and tricks, and here is a design he's shown off on his Instagram.
This nail art is definitely very complicated. Many people like to use stickers to achieve more complex designs, but HongGi's nails seem to be hand-painted! Now, these might be a bit difficult to do yourself, but you could use them for inspiration. The theme seems to be time, so you could have the clock, a pause symbol, a play symbol, and you could also try to spell out the word time on our four fingers. You can always take inspiration from the designs if they are too difficult to replicate!
Tiffany has many pictures on her Instagram where you can see her nail art. Many of the times it is a simple one-color polish, but there are occasions when she has something special as well. Here is a stylish design that Tiffany wore that you could try for yourself!
In this beautiful selfie that she took, she is showing off her nails. The nails themselves are a pretty metallic pink color, and each nail also has a large gem on them. The gem is a white-ish blue color with a gold rim that pairs perfectly with the color of the polish. This design may not be for everyone as gems can be uncomfortable. However, you can always use smaller gems to achieve a similar style to Tiffany's!
Idols try to look nice for their fans. This includes having their nails done. Many girl idols do nail art and like to show it off, and these days more and more male idols are starting to do it as well. If you're thinking about having your nails done soon but are stuck on what design to do, we hope this list was helpful in giving you some inspiration!
Which nail art was your favorite? Are you going to try any?
Let us know in the comments!