It's amazing to see how influential idols and celebrities are in our society today. Fame isn't just an accessory, it is an asset that opens doors to many other desirable things in life.
The Hallyu stars we have compiled this time have done extraordinary things not just for themselves and their agencies, but also for other businesses that they have worked with. They have demonstrated the power of marketing when it's done correctly.
Suzy
Miss A member Suzy is known as the queen of CF's and advertisements. She probably makes more money off of endorsements and appearances on television than her activities through Miss A. When South Korean clothing brand Beanpole collaborated with KakaoTalk to release Kakao Friends Edition Beanpole Bags, Suzy had the chance to release one which she personally designed herself. The bags sold out as soon as they were released and had to be restocked ten times. She increased Beanpole's revenue by 400%.
BTS
The name BTS is self explanatory. While Big Hit Entertainment was lost in ambiguity just a few years back, the agency is now arguably more valuable any of the former big three agencies (SM, JYP, YG) if not at the same level. BTS's global success, never achieved by any other k-Pop idol group, has definitely increased the name value of Big Hit Entertainment by miles than when it first started.
Son NaEun
Although Adidas is one of the largest companies in the world, the beloved sports brand owes it to Son NaEun for making their products hot items every year in South Korea. In fact, South Koreans go crazy for Adidas, especially the leggings for girls. Why? It's because the K-Pop idol repped them so well that it literally made every single girl in South Korea want to wear leggings wherever they go. And not just any leggings, the ones with "the three stripes".
Jeon JiHyun
Arguably the most beautiful woman and the biggest female Hallyu star in Asia, actress Jun JiHyun has raked in 9 million USD for the cosmetics company Hera in a matter of just a few months after promoting their lipstick. There was also an incident when the entire nation went into a complete frenzy when lipstick products from Yves Saint Laurent, all went out of stock. People thought she was using Yves Saint Laurent lipsticks, but it turned out that the shade of her lipstick was in fact from IOPE and not Yves Saint Laurent, which adds a little humor to the craziness. In a nutshell, this woman has the power to sell out cosmetic products by just simply wearing them in K-Dramas and her movies.
Read More : K-Pop Idols With Unbelievably Long Legs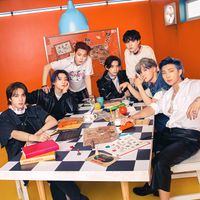 Became a fan of BTS
You can now view more their stories