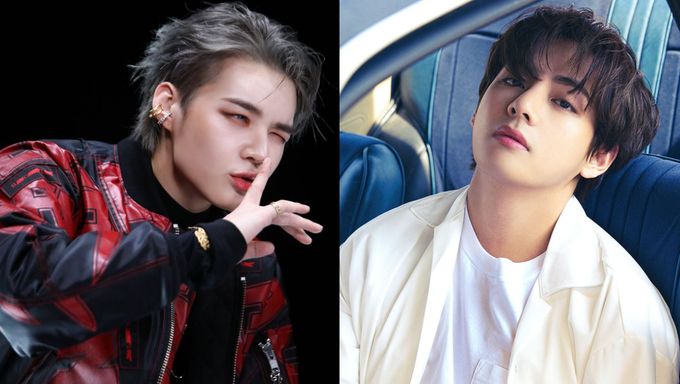 It is quite common for K-Pop idols to wear coloured lenses and for more reasons than one. Besides the very obvious purpose of correcting vision, it is also an aesthetic addition that enhances the visuals of an idol. Just like glasses, lenses are also protective as the harsh stage lighting is not the best for the eyes. As for the type of lenses and the colours stylists choose for idols, some definitely look better than others.
Here are 10 male K-Pop idols with light coloured lenses vs. dark coloured lenses/their natural eye colour!
HyunJin's duality is no joke and the way his visual aesthetic changes as he goes from light coloured lenses to dark ones, is only testimony to the fact. Light eyes make him look like the bad boy everyone falls for and dark-eyed HyunJin radiates ideal boyfriend energy.
V isn't the world's most handsome man for nothing! He has the panache to pull off any and all eye colours and he looks equally bewitching in all of them.
WEi's DongHan loves switching up his contact lens shades. We don't know about you but when it comes to DongHan, we really cannot choose between lighter lens colours and darker ones because he looks absolutely stunning in both of them!
JiMin looks absolutely out of this world in his light coloured lenses. However, hazel/brown eyes give him a warm and earthy vibe that is irresistible.
I.N's entire look changes if he changes his lens colours. Light coloured lenses tend to give I.N a bright and energetic look whereas dark coloured lenses give him the sexy, serious gaze.
SeJun definitely looks alluring in both light and dark coloured lenses but something about the light blue lenses on him is just so ethereal that we cannot take our eyes off of his.
ASTRO's Cha EunWoo looks unrealistically good in light coloured lenses, which enhances his "manhwa prince" visual. On the other hand, darker eyes make him look supremely handsome, the perfect person to introduce to your parents.
YeoSang's eyes are sharp and piercing with light coloured lenses and he seems to be sporting them quite frequently. However, his natural eye colour/dark lenses give him the puppy-eyed look.
JaeHyun is someone who can perfectly pull off both light and dark coloured lenses and both look rather natural on him. Who wouldn't lose themselves in those eyes?
BamBam's eyes have a dreamy look with light coloured lenses whereas when he has dark coloured lenses on or his natural eye colour is on display, his eyes get deeper.
Do you prefer light coloured lenses or dark coloured? Share your thoughts with Kpopmap in the comments section down below!