Where is the best place to get inside information? From someone that is in the inside of course. 
There have been many reports surfacing recently about the controversial Idol Star Athletics Championships. The host network, MBC, continues to insist that the show will air as scheduled in January of 2018. But nothing has been officially confirmed as of yet.
In an event such as Idol Stars Athletics Championships where basically every single idol that exists gather in one spot to compete against each other in sports games, you have to wonder what things are like off camera. Idols have revealed that it is actually an excuse for idols to meet their secret idol boyfriend or girlfriend.
MinAh of Girl's Day and MinHyuk of BTOB have said before during a talk show that they saw way too many idols that had a thing going on between each other. MinAh almost said a few names out aloud on the show but fortunately, just blushed and moved on about it.
HyeRi of Girl's Day added "The funny thing is, we always wondered. There are so many of us here and don't you ever wonder if any of them would be dating each other? Eventually, we found out that the Idol Stars Athletics Championships was really where all the idol couples came to meet up secretly and passing little notes to each other as well. Some of them even probably saw their ex-boyfriends and girlfriends there."
Must Read : Controversial Idol Star Athletics Championships To Air As Planned In 2018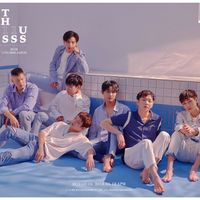 Became a fan of BTOB
You can now view more their stories