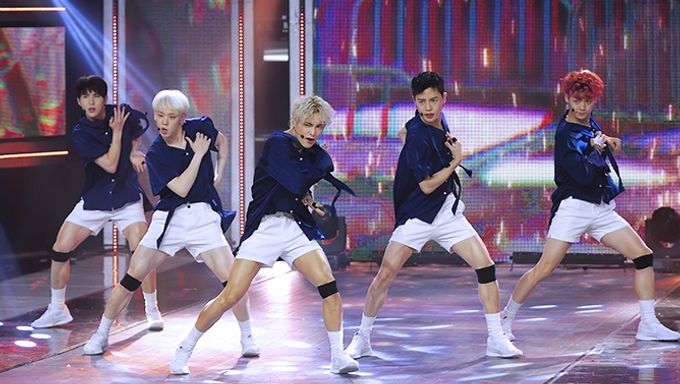 The first K-Pop male idol group whose all members are wearing hot pants on the stage appeared.
What a the most stunning scene recently. A K-Pop male group showing off their the beauty of leg lines on stage appeared. The name of this group is A.C.E. This group is not that much famous so far, but recently getting popular for their unique fashion on the stage. All the members are wearing the short hot pants and dancing with postures to emphasize those naked legs. At first, netizens reacted, 'It's too weird', however, there happened some supporting voices for them. Some of netizens made them a nickname 'Hot pants dol'.
Many people are curious about why all of A.C.E. members dress up hot pants on the stage. Members said they decided to wear hot pants in order to show off their dancing body lines to the audience on their debuting stage. Of course, members confessed they also felt a little awkward at first, but they get used to them.
Besides, in order to keep their perfect body lines, they keep shaving their legs' hair and scrubbing them. Also, as the basic step of keeping body shape, they continue to manage diet so far. In their free time, the members usually work out. They confessed that the choreography of the title song is so hard that they could lost weight without any endeavor. It is truth. All the members lost at least 2~3kg per person after debut. At the very first, it seemed a little bit awkward, we need to remember it was a decision for them to show a better performing.
Must Read : A.C.E Profile: Beat Interactive Debuts Kangta Doppleganger