If at first it doesn't work... change, add and add again. Members, I mean.
It appears that the latest trend among K-Pop idol girl groups is to change up their member lineups after their debut. Many rookie groups have added, switched, and changed their members within a few years since debut. For whatever reason, it's almost difficult to find a recent rookie girl group that has maintained their original lineup from debut.
Must Read : Exclusive Moments of DIA's "YOLO" Live Music Show
Here are the 5 K-Pop rookie girl groups that have already made (sometimes numerous) changes to their lineup since debut.
1. WJSN
The Cosmic Girls debuted in 2016 with 12 members, but added Yoo YeonJung to the team after she debuted in the project group I.O.I. It wasn't a huge surprise as YeonJung practiced for years with the other members.
2. Berry Good
Berry Good actually debuted in 2014 with Iera, NaYeon, SuBin, GoWoon, and TaeHa. In 2015, Iera, NaYeon and SuBin left and SeoYul, DaYe and SeHyung were added to the group. Then in 2016, the group welcomed JoHyun for another member change.
3. MOMOLAND
The group debuted in 2016 with the 7 members who won the survival debut program. In 2017, they recruited two new members - Daisy and TaeHa.
4. APRIL
APRIL debuted in 2015 with 6 members. In a few months, SoMin left the group to later debut in K.A.R.D, and HyunJoo left for health reasons in 2016. The group promoted as a 4 member group for a while until they welcomed Yoon ChaeKyung and Rachel in 2016.
5. DIA
DIA first debuted in 2015 with 7 members. Jung ChaeYeon and HeeHyun (Cathy) left the group to participate in "Produce 101". HeeHyun re-joined the group when she was eliminated and Jung ChaeYeon rejoined after her I.O.I announcement. SeungHee decided to leave the company in 2016. EunChae was recruited instead, and they promoted as 7 for a few albums. In 2017, MBK announced that they recruited two more members - JooEun and SomYi - for their new album.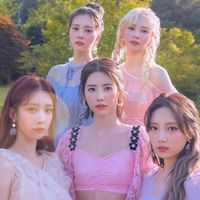 Became a fan of DIA
You can now view more their stories