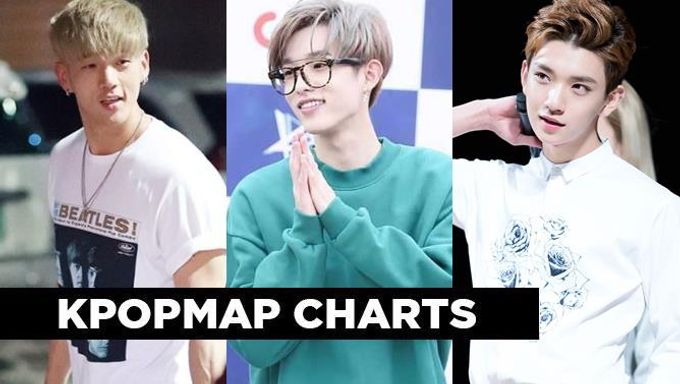 While a number of foreign K-Pop idols come from the United States, it seems that a good majority of them are actually from California. (There's really got to be something in the water.)
For this week's Kpopmap Chart, we're shouting out all the male idols who hail from America's Golden State. Bring out the boys! 
1. 2PM's Nichkhun
Nichkhun was born in Rancho Cucamonga, a city in Southern California. While he traveled to study in Thailand and New Zealand for most of his childhood, he returned when he was a teenager and graduated from Los Osos High School.
2. GOT7's Mark
Mark Tuan of GOT7 is a native Los Angeleno, and when he has the time, he often returns to visit his family, who still lives there. Mark was a student at Arcadia High School, but left when he was a sophomore to move to South Korea and train with JYP. 
3. Kevin Woo
Kevin Woo hails from Danville, California and lived there until he moved to South Korea to pursue his singing career when he was 16 years old. Kevin's California travel tip? Try Santa Monica Pier's funnel cake, which he insists "you can't leave without having."
4. KARD's BM
BM grew up in Upland, California, a suburb located in San Bernadino County outside of Los Angeles. The rapper was recently given the honor of being able to perform in his hometown area for the first time last May on the group's WILD KARD 2017 Tour.
5. Shinhwa's Andy
Andy grew up in San Fernando Valley and attended Granada Hills' JFK High School before moving to Seoul. Oddly enough, fellow Shinhwa member Eric moved to USA from Seoul and was also studying in LA at the same exact time, but the two didn't know one another.
6. Tiger JK
Tiger JK might not be native to California, but he did have the privilege to spend his teenage years in one of the state's loftiest zip codes - 90210. The rapper attended Beverly Hills High School, where he studied alongside Angelina Jolie, Breckin Meyer, and Antonio Sabado Jr.
7. SEVENTEEN's Joshua
Joshua was born and raised in the heart of Los Angeles, having attended Downtown Magnets High School. When he lived in Los Angeles, he was heavily involved in his church, where he played guitar as part of the praise team.
8. Day6's Jae
Jae was born in Argentina, but moved to Long Beach, California when he was three years old. Before auditioning for "K-Pop Star 6" (and consequently being picked up by JYP), the idol attended California State University, Long Beach, where he studied Political Science.
 9. JJCC's Eddy
Eddy was born and raised in Los Angeles, California before moving to Tokyo with his family when he was a freshman in high school. Despite still having his U.S. citizenship, the singer revealed during an interview with "Cultwo Show" that he voluntarily served in the Korean military.
10. NU'EST's Aron
Aron is yet another Los Angeleno that made it on the chart. Did you know that Nichkhun and Aron were scouted while attending the same Los Angeles Korean music festival? What a small world! 
Must Read : Most Anticipated Foreign Idols of 2017