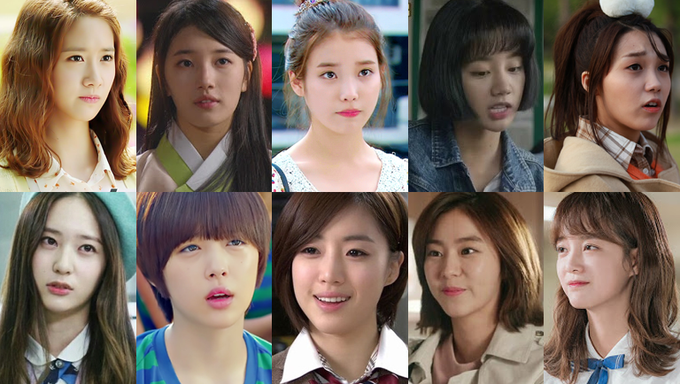 K-Pop idols turning to acting is becoming more and more common these days. However, it really takes a lot for these stars to prove their acting chops! As a good majority of South Korea tunes into their favorite dramas every week, their characters not only need to appeal to K-Pop fans, but people of all ages and demographics, making the cross-over all the more challenging.
For this week's Kpopmap Charts, we've picked ten of our favorite roles played by K-Pop idol actresses. To the upbeat SiWon of "Reply 1997" to the competitive Becky of "Dream High," these K-Pop idols tried their hand at a range of different characters. Did your favorite make the list?
Must Read : 3 Kissing Couples In K-Drama But Actually Friends In Reality
1. SNSD's YooNa - YoonHee and HaNa in "Love Rain"
The heartwrenching romance drama "Love Rain" is among international K-Drama fans' favorite watches, and it's really a no brainer why. Acting alongside fellow Hallyu heavyweight Jang GeunSuk, YooNa's portrayal of both YoonHee and her daughter HaNa tugs is both tragically sweet and powerfully acted.
2. Suzy - YeoWool in "Gu Family Book"
Suzy has always carried her weight as an actresses in both drama and film, but in the 2013 action-romance drama "Gu Family Book," she upped her game with some serious stunt choreography through the role of skilled warrior YeoWool. Don't mess with Suzy!
3. IU - SoonShin in "You're The Best, Lee SoonShin!"
As optimistic and ambitious SoonShin, IU plays the perfect 'every-girl' working hard toward her dream of becoming an actress. While IU has played quite a few lovable drama roles, "You're The Best" introduced her acting talent to the world, helping her score Best New Actress at the 2013 KBS Drama Awards.
4. Girl's Day's HyeRi - DukSun in "Reply 1988"
Considering just how big of a star she is these days, it's hard to believe there was a time where Girl's Day's HyeRi wasn't on TV! Thanks to her role in "Reply 1988," she became a household name in Korea and is currently among the top paid endorsement models in the country.
5. Apink's EunJi - SiWon in "Reply 1997"
Anyone with even a passing interest in Korea's 90s pop culture could relate to the daily struggles of H.O.T fangirl, Sung SiWon. Constantly having to defend her love for her oppas from the naysayers in her life, EunJi played a fan as obsessed with Tony Ahn as we are obsessed with her!
6. f(x)'s Krystal - BoNa in "The Heirs"
As one of the HBIC at the ultra-plush Jeguk High School, Krystal was definitely channeling some Blair Waldorf vibes through the role of Lee BoNa, the daughter of a music entertainment CEO. With her glamorous looks and unaffected delivery, she may just be the ice princess of our K-Drama dreams!
7. Sulli - JaeHee in "To The Beautiful You"
By the time "To The Beautiful You" had hit television, it was safe to say the girl-disguised-as-guy motif was pretty played out in the realm of Korean dramas. However, Sulli breathed new life into the genre through the girlcrush-worthy role of Goo JaeHee.
8. T-ARA's EunJung - Becky in "Dream High"
As good-girl-gone-bad Yoon Becky, T-ARA's EunJung put on a stellar performance in the 2011 musical drama "Dream High." Sure, we loved a few different roles in that drama, but as one of the main villains, she played a character we truly loved to hate. (Just keep her away from flower pots, okay?)
9. UEE - HyeSoo in "Marriage Contract"
While other acting idols tend to play lighter roles like high school students or part-time workers, UEE put on a moving performance as young widowed, HyeSoo, who was dealing with raising her daughter despite being diagnosed with an inoperable brain tumor. Talk about a hard role to tackle!
10. gugudan's Kim SeJeong - EunHo in "School 2017"
In the recently wrapped drama "School 2017," gugudan's SeJeong won the heart of audiences through the role of EunHo. A perfect heroine, the high school student maintains her upbeat, optimistic demeanor while working to solve the case behind the mysterious Student X.