If there's anything that could possibly be worse than lowlifes such as sasaeng fans, it's K-Pop idol managers.
Of course, not all managers are bad people. But from what we've seen up until now, there have been numerous occasions where idol managers have exhibited violent and provocative behavior not only towards fans but idols as well. Sure it might be a breath of fresh air and entertaining to watch when these violent managers teach sasaeng fans a lesson or two. But when it is directed towards loving fans and even the idols themselves, it just becomes completely unacceptable. We've picked seven of the worst moments K-Pop has ever seen with idol managers. 
7. Wanna One's Manager
The manager could be heard screaming 'shibalnyunah', the most profane and common South Korean swear word at a female sasaeng fan. We could say that the sasaeng fan deserved it. But nevertheless, sometimes violence isn't the best answer when dealing with these kinds of pests. 
This one is by far one of the worst. She is seen pushing an innocent woman holding her baby. In fact, judging by the distance between the woman and the manager, there was absolutely no need for it. It was unnecessary and ugly.
6. Red Velvet's Manager
Red Velvet member Wendy seemed a little off during this scene. She repeatedly tried to put food in her mouth but couldn't end up eating the food. It turned out that the reason was because her manager glared at her, signaling her not to eat the food. Managers apparently seem to have the task of controlling the diet of idols as well. Seriously, what is this world coming to? Idols are human beings with human rights. They can enjoy food if they want to, wouldn't you agree?
For some reason, Irene's beautiful smile disappears in an instant when she realizes that her manager is keeping an eye on her.
5. EXO's Manager
EXO's manager has been seen on multiple occasions, hitting things out of fans' hands and quickly resorting to violence.
The manager was eventually charged with hitting a fan in the back of the head at one point. The fan sustained injuries to her neck and had to make trips to the hospital for two weeks.
Managers have also shot beams from laser pointers directly into the eyes of fans from preventing them from getting close.
4. TVXQ's Manager
This one is a scene straight out of a Hollywood action movie. The manager literally karate chops an fan nearly gives her a head concussion.
To view the video, visit this link.
3. BTS's Manager
Although some parts of the footage are unclear, fans have quickly spotted the manager's violent gestures towards BTS members. In fact, Big Hit Entertainment has actually released an official apology to fans.
2. SHINee's Manager
The manager can be seen shoving a fan's head and pushing her out of the way. The second footage shows the manager slapping a girl's face, knocking her glasses off.
1.CNBLUE's Manager
The video is self-explanatory of why CNBLUE's manager made it to the top of the list. Some netizens argue that the manager is merely taking care of a sasaeng but whatever the case, his behavior seems unnecessarily violent.
Must Read : Kpopmap Charts: 9 Best JiHoon's 'Heart Save' Pose By Celebs and Famous People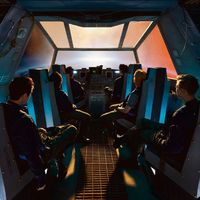 Became a fan of EXO
You can now view more their stories