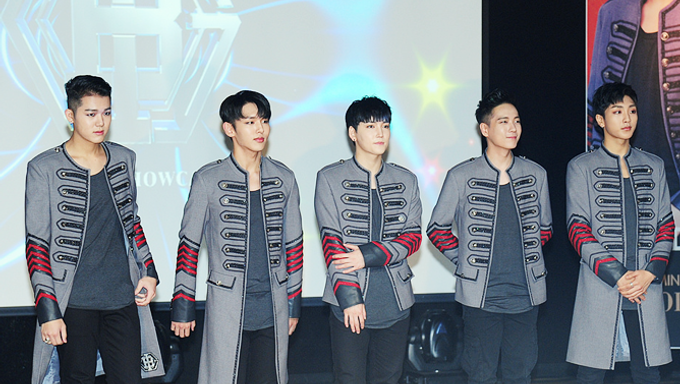 Kpopmap got to get up close and personal with the latest K-Pop boy group, B.I.G!
B.I.G had just made an exciting comeback with their first mini album, "Aphrodite". The group had invited Kpopmap to their latest showcase for their comeback celebration, and of course we said yes! We were able to meet these boys turned men at the Il Chi Art Hall in Gangnam, where the boys showcased their new songs as well as answered some of our questions.
Must Read : Teaser )) B.I.G First Mini Album "APHRODITE"
The B.I.G boys were dressed in gray uniform coats with red accents, as they first began with a brief interview followed by a viewing of their new MV and performance for their title track 'Aphrodite'. The overall showcase was a huge success as the boys perfectly executed their carefully practiced routines and answered questions with both sincerity and humor.
We know how much fans living abroad get frustrated by not being able to attend these showcases. That's why we've brought a little part of B.I.G to you! We asked B.I.G to fill out a series of questions in their own handwriting, with a little message for their foreign fans. Check out the exclusive interview that Kpopmap has prepared just for you!
Exclusive Interview with B.I.G
[BIG TRANSFORMER] Which member transformed the most since debut?
J-Hoon: I would have to say MinPyo. He was very frail and skinny when we first debuted, but now he has become more mature since then.
Benji: HeeDo is the member who transformed the most since debut. Ever since he reached the legal age, he has become an amazing singer on stage.
GunMin: <HeeDo> Even up to his audition, I had always thought "What is that tanned kid..."
Guk MinPyo: HeeDo. When we debuted he seemed like a baby, but he has become manly with every album release.
HeeDo:  I think me. I was a minor when I debuted, but now I reached the legal age.
ㄴHandwritten Interview with HeeDo
[APHRODITE] Which celebrity best represents a real live Aphrodite?
J-Hoon: Actress Lee YeonHee. I watched the movie "Millionaire's First Love" with so much interest that I've always thought of her as a goddess ever since.
Benji: The Aphrodite of the celebrity world is Emma Watson.
GunMin: The Aphrodite of the celebrity world is...
Guk MinPyo: Yoon MiRae senior. She always shows us the best charisma and amazing rap skills on stage.
HeeDo: Actress Kim OkBin has so much variety of appeals.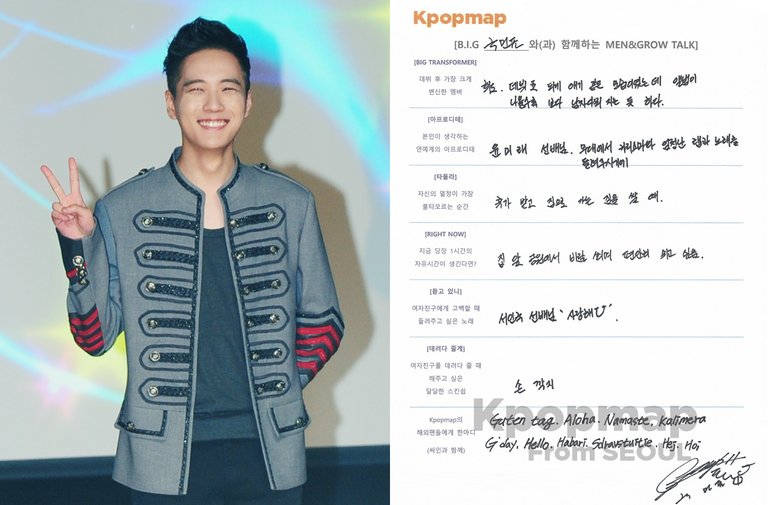 ㄴHandwritten Interview with MinPyo
[Taola] When is your passion most fired up?
J-Hoon: On the way to a cafe to grab some coffee. On the way to see a movie that just came out.
Benji: I am most focused and passionate whenever my body is steaming and dripping with sweat.
GunMin: When I'm choosing what to eat after a hard day of practicing... (Honestly. I'm so happy during this moment.)
Guk MinPyo: When I'm packing to go home for my vacation.
HeeDo: I never notice time flying when I'm writing rap lyrics, and I even sometimes skip meals.
ㄴHandwritten Interview with GunMin
[RIGHT NOW] What would you do if you had 1 hour of free time right now?
J-Hoon: Nothing but deep sleep. I've been lacking sleep since preparing for our comeback. ㅠㅠ
Benji: 1 hour of free time means it's time to ride a skateboard.
GunMin: You're only giving me... one hour...? I can't watch a movie... Go lay down and sky watch at a park, I guess.
Guk MinPyo: I want to go to the park in front of our home and rest while feeling the breeze.
HeeDo: I want to walk along the beach while listening to music
ㄴHandwritten Interview with J-Hoon
[Are You Listening] What song would you play while confessing to your girlfriend?
J-Hoon: Kim WooJoo senior's "I Love You". It's such a sweet song.
Benji: I want her to listen to Zico senior's "You Are Me, I Am You". The song is so sweet that I don't think it will be possible for the girl to reject my feelings.
GunMin: You ~ Probably don't know ~ Just how beautiful your slightly swollen face in the morning is~ Zion.T - "No Make Up"
Guk MinPyo: Seo InGuk senior's "I Love U"
HeeDo: Alex senior's "Plant"" and "If It's You"...
ㄴHandwritten Interview with Benji
[I'll Take You There] What kind of skin ship would you do when you drop your girlfriend at home?
J-Hoon: Rub cheeks together >_< <3
Benji: Walk with her to the front of her door and kiss her on her forehead. I think that's the sweetest gesture.
GunMin: Uhm... While I'm taking her home... I want to give her a piggy back ride... if she's not heavy O...O
Guk MinPyo: Hold hands
HeeDo: Kiss on the forehead
A Word to Your Kpopmap International Fans
J-Hoon: "Aphrodite" is a very impressive album. Please look out for us. We won't let you down!
Benji: To. International Fans, B.I.G coming on strong! New stuff coming out & new music, so always be on the lookout!
GunMin: For those who have yet to see us face to face!! We really want to go meet you! Let's meet with a happy face!
Guk MinPyo: Guten tag. Aloha. Namaste. Kalimera. G'day. Hello. Habai. Sdravstuitie. Hej. Hoi.
HeeDo: Even though we may not speak the same language, if you'll stay by our sides, I believe we can make all kinds of memories together.