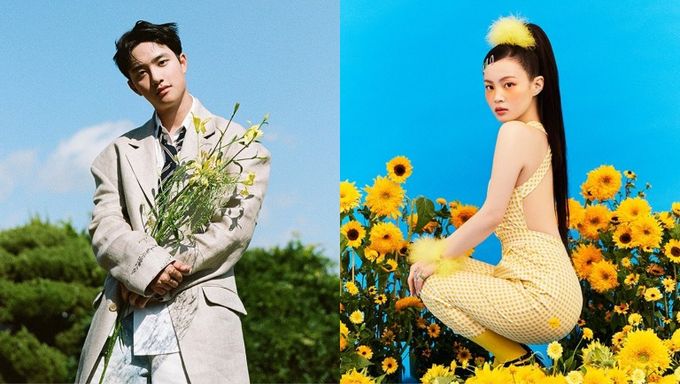 Welcome to Kpopmap's brand new weekly series: Kpopmap Mood Playlist! In this series, with articles released every Friday, we create a playlist of 5 unique songs across various genres such as K-Pop, K-Rock/Indie/Hip-Hop/R&B, ballads, city pop, and more perfectly curated for a very specific mood. Through this series, we want to introduce you to artists and genres as well as give you the perfect collection of songs to jam out to, regardless of how particular your mood is. Don't forget to tell us what your mood is like in the comments down below for a Mood Playlist, just for you! 
For this week's Mood Playlist, we're giving you 5 K-Pop songs that will make you miss your significant other, regardless of whether you have one or not. It might be your bias or a fictional character or even no one at all! However, these songs will transport you to an alternate universe where you long for them endlessly.
1. D.O - 'I'm Gonna Love You'
A beautiful love song that sounds exactly like what butterflies in your stomach feel like, 'I'm Gonna Love You' speaks of the promise of unending love, especially the act of showering someone with the same unconditionally. D.O's golden voice is incomparable when it comes to mellow and romantic themes and he proves once again that you don't need a lover to know what love feels like.
2. IU - 'Can't Love You Anymore'
Contrary to the longing expressed in D.O's 'I'm Gonna Love You', this one's for those who have fallen out of love. Even at the end of a relationship, one form of love replaces another. Longing turns to loneliness but the lingering essence of the feelings shared intimately between two people is way too potent to ignore. This song will make you miss a relationship you never had as you look out the window like the main character of a movie.
This song has a whimsical and addictive quality to it that is impossible to get out of your head. Lee Hi's magical and angelic voice is truly one of a kind and the way she masterfully plays around with even the most difficult notes makes this song a masterpiece. This song will not only make you want to hold your beloved till eternity but also see them in a new, rosy light. 
Switching up the tempo to a reggae beat, Wonder Girls sings of feeling lonely even when you're not alone. The song evokes a nostalgia for a world you've never seen, leaving you longing for the kind of love that is burning with passion: nothing you've ever felt before. By highlighting a sentiment of seclusion in togetherness, Wonder Girls inadvertently bring out a craving for the opposite: the feeling of being irretrievably in love.
5. K.Will - 'Back In Time'
If you've ever loved and lost, prepare to shed some tears because 'Back In Time' is perhaps one of the greatest break-up ballads of all time. At the same time, it best defines the purpose of this playlist: missing someone you've never even met. You cannot help but place yourself in the position of the protagonist of the story K.Will weaves with his voice and fly away to an imaginary world where you regret letting go of the love of your life. 
Did you like our Mood Playlist? What mood would you like us to make a playlist for next? Share your suggestions in the comments down below and if your recommendation is picked, we'll give you a special shout-out on our next "Mood Playlist" article!