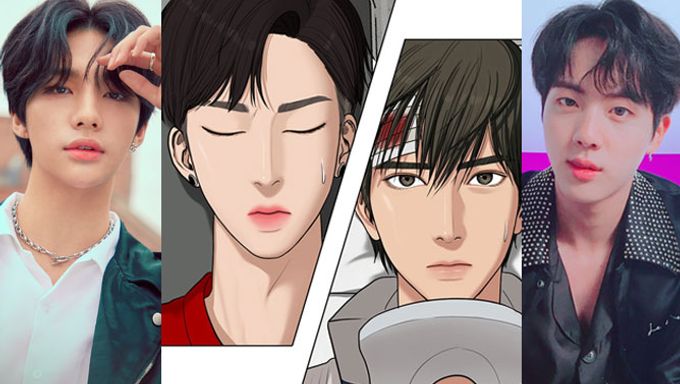 The popular webtoon "True Beauty" of Yaongyi was announced to be adapted into a drama. In and out of Korea, many readers of the webtoon have started to think about the perfect cast for the drama.
Recently, Yaongyi herself said that she does not know about the production schedule and the casting of the drama. Many fans are eagerly waiting to know more about the drama.
Back in January 2019, we posted the casting desired by Koreans for the drama. Thank you to all our readers, you have been so numerous to vote and comments on the article Find Out Koreans Desired Cast For Adaptation Of Popular Webtoon "True Beauty". Thank you for your enthusiam.
We thought that it was time to have an article on international fans' opinions based on the votes and comments on our website (from January to November 2019).
Here are the cast desired for "True Beauty" drama by Kpopmap readers (data retrieved on Nov. 13, 3:20 pm KST). Idols/actors bolded are the ones most mentioned for the role.
1- Lee SuHo - Lead male character
ASTRO's Cha EunWoo and BTS's Jin received together around 92,050 votes. Jin was preferred for the role over Cha EunWoo with around 11,700 votes difference.
In the comments, readers also mentioned for the role: THE BOYZ's YoungHoon, Park SeoJoon, Kim MyungSoo (INFINITE's L), iKON's ChanWoo, BTS's V, GOT7's JinYoung, B1A4's JinYoung, NCT's JaeHyun, BTS's JungKook, EXO's SuHo, NU'EST's MinHyun, EXO's ChanYeol, B.I.G's GunMin, and more.
2- Im JuGyung - Lead female character
Chae SooBin was preferred for the role of JuGyung over AOA's SeolHyun. However, the vote difference is very little.
In the comments, many have mentioned BLACKPINK's JiSoo and also the writer herself Yaongyi. The latter mentioned that the lead actress she was looking for would be in her early 20s so it would not be herself. JiSoo was mentioned by a huge majority of you and is the one most wanted for the role.
Here are also other names mentioned: Park MinYoung, IZ*ONE's Kim MinJu, Ladies' Code's Zuny, Jung ChaeYeon, Kim SoHyun, Suzy, Yoo InNa, IZ*ONE's Jang WonYoung, and more.
3- Han SeoJoon - Second lead male character
VIINI (Kwon HyunBin), GOT7's JB, and Stray Kids's HyunJin have been mentioned numerously. HyunJin seems to be the most wanted actor for the role of SeoJoon based on the comments.
Here are also other names mentioned: Lee JaeWook, SF9's RoWoon, Nam JooHyuk, iKON's JunHoe, MONSTA X's I.M, THE BOYZ's Q, Song Kang, SEVENTEEN's MinGyu, VICTON's SeJun, NCT's DoYoung, Stray Kids's ChangBin, KARD's J.Seph, Seo KangJoon, Kim WooBin, BIGBANG's G-Dragon, Lee JunKi, and more.
4- SooJin
Kpopmap readers largely preferred Apink's NaEun over Suzy for the role of SooJin.
Here are also other names mentioned: Ryu HwaYoung, MOMOLAND's Nancy, Jeon SoMi, Seol InAh, Kim JiWon, Apink's Bomi, f(x)'s Krystal, LOONA's HeeJin, and more.
5- SooAh
For SooAh, HyeRi was preferred over Min DoHee.
6- Im HeeGyung
For Im HeeGyung: Lee DaHee, SNSD's YooNa, SNSD's SooYoung, and more were mentioned.
7- Kim Aiden
For the role of Aiden: NCT's Lucas, NCT's JaeMin, NCT's JungWoo, SEVENTEEN's Vernon, EXO's Kai, Samuel, TXT's BeomGyu, MONSTA X's HyungWon, and more were mentioned. Many of you mentioned Vernon.
You can continue to discuss and vote on the article. The votes are still open.
For all the characters descriptions, you can check them here.
Webtoon links: Korean, English
Read More : "True Beauty" Webtoon Artist Yaongyi Shares Her Thoughts On The Lead Actress In Upcoming Drama Adaptation