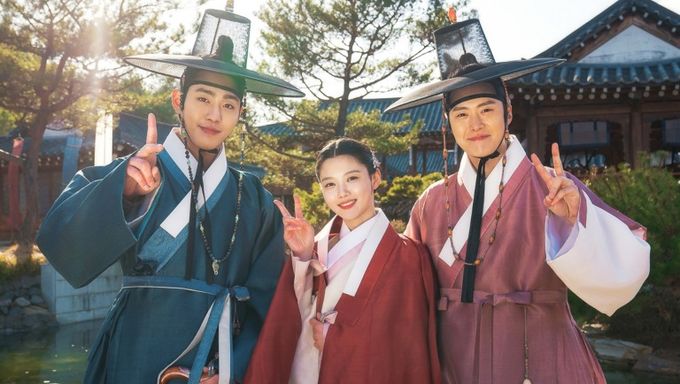 Welcome to our sweetest Editor's Choice Kpopmap series: the Romantic Pick! In this biweekly series, we pick the most heart-fluttering, impactful, and aww-worthy scene from ongoing K-Dramas and analyze it from start to end. 
There are a number of romantic K-Dramas airing at the moment: "Hometown Cha-Cha-Cha", "Lovers of the Red Sky", "Dali and Cocky Prince" and "Yumi's Cells" with many more coming soon like "The King's Affection", "The Red Sleeve Cuff" and more.
This month, our favourite romantic pick is a scene from "Lovers of the Red Sky"!
Spoiler Alert!
From the very first episode, "Lovers of the Red Sky" has been one of the most intriguing and unique dramas airing at the moment. From its plotline to the incredible characters, played by some immensely talented actors, this drama knows exactly how to hold its audience. 
The preface to the story gave us an idea of the heartbreaking tragedy that might be underlying the narrative. Yet, viewers are curious as to how it could possibly get to that point and whether our main characters will be able to change their predestined fates. It is this conviction that drives the popularity of the drama.
Ahn HyoSeop plays Ha Ram, a scholar, astrologer and vessel for Ma Wang, an evil entity responsible for doom and destruction. When he was young, he was sacrificed to the gods for bringing rain to the land. It was then that Ma Wang entered his body. 
Kim YooJung plays Hong CheonGi, a prominent female divine painter in Joseon. Her father was cursed by Ma Wang, which is why she was born blind. At a young age, she meets Ha Ram, and the two strike up a beautiful relationship, both romantic and spiritual. After all, they're bound by fate. 
On the day that Ha Ram is sacrificed, he loses his eyes and CheonGi gains vision. As it turns out, Samshin has taken Ha Ram's vision and gifted it to CheonGi for safekeeping, so as to keep Ma Wang from awakening regaining his full strength and power. Ha Ram loses his memories and has to witness his father's murder.
Years later, Ha Ram is now Supervisor Ha of Seowoongwan and CheonGi is an imitation painter, albeit a brilliant one at that. With their coming of age, the two meet again and everything falls into place.
The episode we'll be discussing, in particular, today is episode 8. At this point in the story, we have seen Grand Prince YangMyung (played by Gong Myung) trying to persuade CheonGi to work beside him at the Painting Bureau. He tells her that he will take care of her father and will even grant her wish. The two share an affectionate conversation and with a promise, part ways. 
The next morning, CheonGi bids farewell to BaekGyu Painters Society and takes one of her paintings to gift to Grand Prince YangMyung to show her gratitude for her father's medicine. However, Samshin finds her on the way and casts a spell so as to make her reach Supervisor Ha's residence instead. There, the two share some heartfelt yet painful words, and CheonGi leaves the painting behind. 
As she's walking aimlessly in the rain, Grand Prince YangMyung comes up behind her to shield her from the rain. He realizes that she is running a fever and commands her to get on his back. She complies. However, before they can take a few steps forward, Supervisor Ha appears and tells him that she has "promised him first". Without further explanation, Ha Ram takes CheonGi away. 
The scene that follows shows the two having the conversation that we have all been waiting for. He tells her that nineteen years ago when he had promised to go meet her, he lost his eyes to bring rain to the kingdom. As such, he could not have gone to meet her with those eyes. After losing his parents, he turned his back on the world until CheonGi remembered the Ha Ram from the past. Without hesitation, after holding out for so long, he finally confesses that he has missed her to no end. 
He continues by saying that even though he has longed for her, he cannot be his old self anymore and as long as CheonGi is by his side, he'll keep wanting to do so. She must leave because he cannot live while yearning for the past. In response, CheonGi tells him that every time she is afraid in the same way that he is, she remembers Ha Ram's words: "It's not your fault". In this situation, she tells him the same thing. 
At the end of the scene, CheonGi tells Ha Ram that as long as he doesn't leave her and continues to tell her about his feelings from time to time, she'll be alright. 
We cannot wait to see how this story develops. Share your thoughts with Kpopmap in the comments section down below!