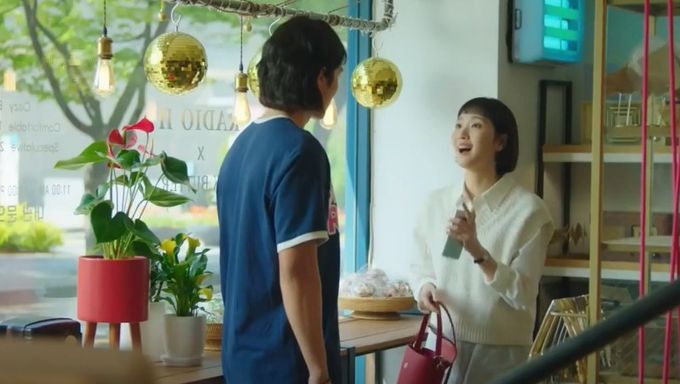 Welcome to our sweetest Editor's Choice Kpopmap series: the Romantic Pick! In this biweekly series, we pick the most heart-fluttering, impactful, and aww-worthy scene from ongoing K-Dramas and analyze it from start to end. 
There are a number of romantic K-Dramas airing at the moment: "Hometown Cha-Cha-Cha", "Lovers of the Red Sky" and "Yumi's Cells" with many more coming soon like "The King's Affection" and "Dali and the Cocky Prince". 
This month, our favourite romantic pick is a scene from "Yumi's Cells"!
Spoiler Alert!
Right off the bat, "Yumi's Cells" is full of the sweetest interactions between YuMi (played by Kim GoEun) and the men in her life. This is quite natural since the drama focuses on the prospective romantic relationships of Kim YuMi, three years after her last relationship that left her with a broken heart. 
The first man we meet is Chae WooGi, played by SHINee's MinHo. He is YuMi's hoobae at her workplace who she is definitely crushing on. However, her infatuation turns into something deeper when she starts to notice signs that indicate that he might be interested in her as well! He seemingly expresses curiosity towards her, offers to drive her home, and even proposes that they go see the flower festival together when the others cannot make it. However, all of this is only from YuMi's point of view.
We later find out that YuMi isn't the one WooGi is interested in. Naturally, YuMi assumes that his object of affection must be Ruby (played by Lee YuBi) then. However, WooGi opens up to YuMi and tells her that he does in fact have someone that he likes but it is not a woman. All WooGi wanted was to set YuMi up with one of his best friends, Gu Woong (played by Ahn BoHyun).
The real romance begins when YuMi agrees to go on a blind date with Gu Woong, albeit, hiding her true feelings and putting on a "default" face. They decide on the place to meet and YuMi tells him that she would be carrying a red bag. Influenced by SaeYi (played by Park JiHyun) telling him to treat the blind date as a casual thing, Gu Woong puts little to no effort in looking good for their date. He recalls that WooGi had told him that YuMi was "cute" when he had asked whether she was "pretty" so Gu Woong wasn't very eager in the first place.
However, when YuMi does show up and Gu Woong lays his eyes on her for the first time, it is almost as if he is struck by the lightening of love! He looks right into her eyes and suddenly the world stops for him. We're taken into his cell village next where we find out that his cells have decided to go blank on him. In other words, he is tongue-tied and has absolutely nothing to say. He does not know how to react to the way YuMi is making him feel or how his heart keeps skipping a beat or two from how gorgeous she is. 
YuMi tries to communicate with him despite her obvious dislike for him through her "automatic expression" doll but Gu Woong is as blank as a sheet of paper. Out of sheer desperation, his "Humor" cell decides to come through and save the day. However, clearly, it too has absolutely no idea what it's doing. The jokes Gu Woong comes up with from seemingly thin air are terrible dad jokes, to say the least. However, YuMi is delightfully yet insincerely laughing at them, as her cells dictate. Gu Woong doesn't know that she's completely on auto-pilot and her laughter makes him fall for her even more. The look on his face as he gazes lovingly at YuMi's bright smiley face has to be the cutest moment ever. 
We cannot wait to see how this odd couple's blind date goes in the next episode of "Yumi's Cells". We'll see you again next to next week with another Romantic Pick!