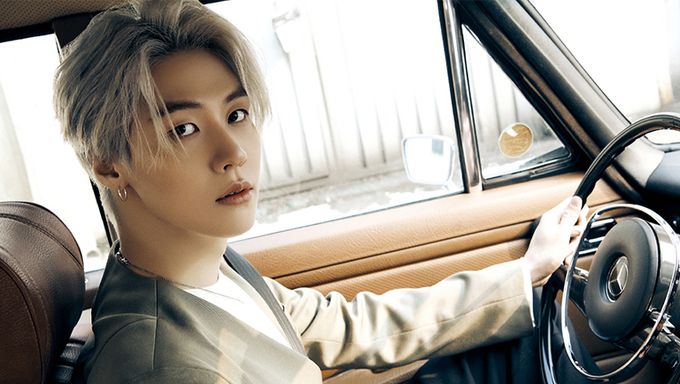 FNC Entertainment's boy band, N.Flying leader, Lee SeungHyub have released his very first solo single, "ON THE TRACK" on Feb. 22nd, 2021 and held an online media showcase, the very same day.
It was rather a unique and a cozy showcase as Yoo HweSeung appeared as an Emcee and the two of them sat down on a blue sofa and talked about SeungHub's new solo single album.
Lee SeungHyub, the leader of the renowned band had been actively involving himself in music production as he had participated in creating the group's hit songs including, 'Rooftop,' 'Spring Memories,' 'Oh Really,' 'STARLIGHT', and more, proving his talents as a composer.
He also have a collection of his signature sounds which is named "J.DON ON THE TRACK," hence the album name, "ON THE TRACK."
This single album, consists a total of 3 tracks(Clicker, Moon & Cheese, Superstar(Feat. CHEEZE)) which were all written by Lee SeungHyub himself where he freely transcribes his own thoughts and feelings into music.
For his solo album he commented, "I wanted to differentiate my music from that of N.Flying's. It was such a long and hard process to only fill it with my own. In the end, I dropped all the songs that sounded like N.Flying."
"When I was struggling to break the creative wall, HweSeung and other N.Flying members invited me to go camping with them and it was exactly what I needed." SeungHyub added.
The title track, 'Clicker' is an 80's groovy funk music that was reinterpreted into 90's hip-hop track that comprise of addictive guitar lines and organ sounds and for the first time in his music career, a choreography has been organized for this performance, showing an absolutely new side of his musicality to his fans and viewers.
According to SeungHyub, the title, 'Clicker' derives from the clicker that are often used to train a dog. When training, the trainer orders certain behavior and when the dog complies, the trainer uses the clicker and gives snacks and when repeated, the dog recognizes the sound, giving him/her a rewarding feeling.
Just like that, SeungHyub said he feels happy when he does something rewarding and thought to himself, 'why not do it all the time?'
The song itself is lively and despite it having different sounds from N.Flying, it carried the same energy that you can only feel when you listen to their songs.
You can tell how much effort was put into this album and can see his sensuous and emotional music spectrum drawn by him.
When asked his goal is for this album, SeungHyub said, "Since this is my first ever solo album, I hope that people can recognize my music and know that there is an artist called, "Lee SeungHyub".
He also mentioned about the recent contract renewal of all N.Flying members and shared a heartwarming story.
"FNC's Executive Producer promised us that we can do music with them until we are 80. In that moment, all of our concerns were gone."
As for his acting career, Lee SeungHyub will be continuously keeping himself busy as he will be appearing in the upcoming Web-series, "Leave Me Not" with SF9's Chani in March 2021 and will be taking a role as 'Lee Won'.
Check out his first single and the title track, 'Clicker' MV below!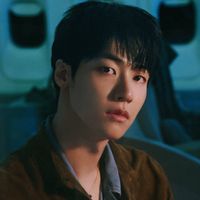 Became a fan of Lee SeungHyub
You can now view more their stories