On January 8th, MBC "Video Star" aired its latest episode with BTOB's ChangSub as a special guest.
During that time, ChangSub shared many things about himself and also talked about a time when he had caught a huge fish in Jeju Island.
The fish he caught was huge and was noted to be a species of Japanese butterfish. ChangSub even took a picture beside it and also did not forget to mention the length of the fish was as long as his legs.
However, as he mentioned that, the members of the show were curious about the length of the Japanese butterfish which he had caught. The longest Japanese butterfish caught in Korea was noted to be around 84 cm and when they realised the one caught by ChangSub was 102 cm, many were surprised.
Aside from that, the members then managed to decipher that ChangSub's legs are also 102 cm long.
At that moment, ChangSub became flustered and caused everyone to burst into laughter.
Fans who had caught the episode could not help but laugh at how the length of his legs were 'accidentally' exposed because of the fish he had caught.
Did you find it hilarious too?
Read More : BTOB's ChangSub Gives Out Charcoal Grilled Chestnuts To Fans During Guerrilla Event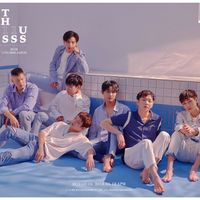 Became a fan of BTOB
You can now view more their stories
Became a fan of ChangSub
You can now view more their stories