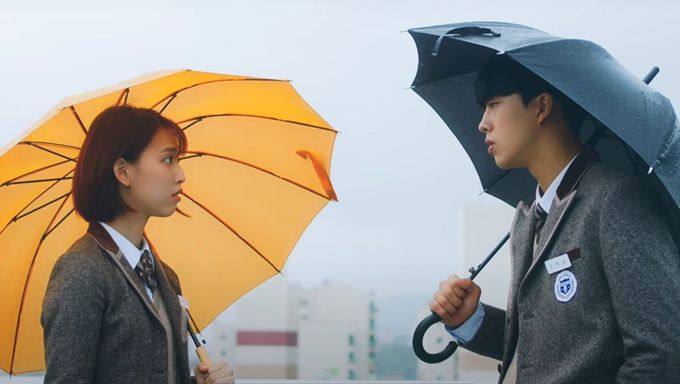 "Let Me Off The Earth" is a teen sitcom of Playlist on its channel TEENPLY.
Cho HanGyeol, Park YeJin, Ahn SeMin, and Kim JiWoo are new rookie actors that just debuted.
Don't forget that Playlist Studio is easy to access with multi-language subtitles. For the links, check them down the article. Playlist Studio produced hit web dramas such as "A-Teen", "Love Playlist", "Ending Again, "Twenty Twenty", and more.
Here is more information.
Let Me Off The Earth (2020)
Information
Title: Let Me Off The Earth / Naerigessseupnida jigueseo / 내리겠습니다 지구에서
Director: Kim JunMo
Writer: Jung SooYoon
Network: TEENPLY on YouTube
Runtime: From Sept. 11
Genre: Romance, Teen, Fantasy
# of Episodes: -
Language: Korean
Summary
After graduating from boring and difficult 3 years of high school, we are back to the first year of high school again? It is a cheerful sitcom of 17 years old friends who are living their same high school life routine for the 33rd time.
Cast
Cho HanGyeol as HanGyeol
He is stuck in a time loop and has been a high school freshman for the 33rd time already. He is cynical about everything and has no hope or expectation for the future.
Park YeJin as YeJin
She is stuck in a time loop for 32 times and she has been in a one-sided love for HanGyeol all these times. She is bright and cheerful and believes in fortune-tellers' love fortune.
Ahn SeMin as SeMin
He is experienced in part-time jobs, there is none that he hasn't done before. He thinks that friendship and love are luxuries but these days there is someone that caught his attention. He is carefully looking into the fortune of his finance.
Kim JiWoo as JiWoo
She is a suspicious transfer student who appeared suddenly. Even the fortune teller could not see her coming. She is a smart student who won first place in school as soon as she transferred.
Interesting Facts
Here is the trailer.
Here is the official poster.
Links
Playlist Studio TEENPLY YouTube channel
Here is the first episode.
Read More : 10 Most Searched Web Dramas In Korea (Based On September 23 Data)