It's on you to judge if the dating rumor is true or not. But first thing first, you need to see cross-checking, here.
Do you remember the Kwai video clip including Lee JuYeon with G-Dragon? Many fans who watched it thought that two of them are just close friends. Because there have been no connecting links between this beauty and G-Dragon. 
However, some fans who felt something, started to dig their SNS. Surprisingly, too many photos have enough clues to make us believe they are dating. For now, YG Entertainment and BETTER Enetertainment are denying the dating rumor or just announcing 'No comment'. A number of netizens are pointing out that YG Entertainment's 'No comment' is a significant sign that shows it's true. 
Then, what makes people believe GD and Lee JuYeon have a relationship? Check out them, right now!
1. Hawaii in October, 2016
GD and Lee JuYeon posted similar photos with the similar angles on Instagram around the same time in October 2016. 
2. At the same restaurant, in November 2016
In the same year, 2016, Lee JuYeon posted the photo, which seems to be taken at the restaurant with the red lighting. On the same day, G-Dragon posted his photo which seems to be taken at the same restaurant on his Weibo. 
3. Jeju island
Lee JuYeon posted the photo on her IG and G-Dragon posted the photo which was taken at the same place in Jeju island on the same day. And the photo which captured G-Dragon and his companies traveling the ShinHwa World, where GD cafe and YG Town were established was revealed. You can see the girl on the left side is Lee JuYeon.
4. GD & Lee JuYeon's LOVE-stagram
G-Dragon posted the photo, 'LIVE LOVE MAKE Memories' on October 15th on his IG. After the Kwai video clip was released and sparked the dating rumor, Lee JuYeon posted a photo and wrote a caption, "Live love make memories". What can this mean?
Must Read : Could G-Dragon and Lee JooYeon be Dating? Kwai Accidental Spill Arouse Rumor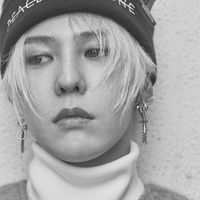 Became a fan of G-Dragon
You can now view more their stories