Jessica's the cutest fan girl, EunWoo of PRISTIN gets happiest when she does something to do with Jessica. 
The diligent fans of PRISTIN might have known that EunWoo is a big fan of Jessica, as she said that Jessica is a great role model for her. Moreover, she has often confessed and mentioned about her love on Jessica. EunWoo covered Jessica's songs a few time (Only officially). Fans who know that EunWoo admires Jessica so much even support that loving. How come? You can see them below.
In these two pictures, you can see a fan giving a photo book of Jessica to EunWoo. After EunWoo got what it is, she can't help but smiling! How cute. Like this, fans like to give Jessica-related stuffs to EunWoo, because she gets so happy with them. Another fan, who knew EunWoo is a big fan of Jessica, gave the photo of Jessica to her. 
Then, aren't you curious about how the fans got to know EunWoo likes Jessica that much? Here's why and how.
She posted Jessica's photos on PRISTIN's official fan cafe web site herself and it was so impressive to fans. EunWoo is such a passionate fan girl of Jessica and kept revealing that fact so far! How lovely EunWoo is XD Look how much she got happy with a Jessica's face-printed fan. It seems like that not only EunWoo is the fan girl of Jessica, but also so do other members! Other members look envious about her cute fan.
As mentioned above, PRISTIN's EunWoo always said that she wants to resemble Jessica, as a role model. Here's how EunWoo is chasing that dream. In the video, she is covering Jessica's 'FLY' on her own, with her all heart. Even before she debuted officially, she sang this song, which can show her passionate love on Jessica. In the video, EunWoo is trying her best to follow what Jessica's done in her song 'FLY'. Let's get it!
 Do you think that this adorable girl's dream is coming true? 🙂
Must Read : Workplace Turns to Fan Meeting for PRISTIN As SunMi Walked In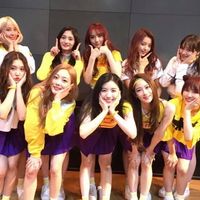 Became a fan of PRISTIN
You can now view more their stories