"Love Alert" also called "Fluttering Warning" is a 2018 MBN x Dramax romance drama coming from the novel of the same name by Seo HanGyeol.
This drama is the return of Hallyu star Yoon EunHye to Korean drama since 2013. She starred in popular and famous K-Dramas such as "Princess Hours" (2006), "Coffee Prince" (2007), "Personal Taste" (2010), and "I Miss You" (2012). Many fans were waiting for her return. Chun JungMyung is the main male lead and his last drama was "Master - God of Noodles" (2016).
Here is more information about the drama.
Love Alert (2018)
Information
Title: Love Alert/Fluttering Warning/Seollemjuuibo/설렘주의보
Director: Jo ChangWan
Writer: Kim SinHye, novel by Seo HanGyeol
Network: MBN x Dramax
Runtime: From October 31st
# of Episodes: –
Language: Korean
Summary
An unpredictable romance drama. The doctor of stars who loves being single and a top actress who is obsessed with love because they did not understand each other words, they create a fake scandal.
Cast
Yoon EunHye as Yoon YooJung
A world star and top actress of 32 years old. She had a traumatic event in her childhood and is scared of fire. She was the "nation first love" and has the title of "queen of romance".
Chun JungMyung as Cha WooHyun
A dermatologist of 24 years old. A top doctor of stars. He does not know about love. He looks like he has a perfect life but looking at it closely he has many pains because he is the abandoned out of marriage son of a chaebol.
Han GoEun as Han JaeKyung
She is the CEO of YooJung Entertainment and is 40 years old. She was the first manager of YooJung and the CEO of the agency she is at. She knows her since young.
Joo WooJae as SungHoon
He is an actor part of YooJung Entertainment and is 32 years old. He has a one-sided love for Yoon YooJung. He debuted at the same time as YooJung and they are close.
Lee HyeRan as Joo MiNa
She is an entertainment journalist and is 29 years old. She is an expert in entertainers' dating.
Block B's P.O. as Yoon YooJun
He just got discharged from his military service and is 24 years old. He is the little brother of YooJung, she sees him as her own son. He is a job seeker. He keeps having feelings for Joo MiNa, a noona of 5 years more than him.
Interesting Facts
Here is the official poster.
Read More : 5 Upcoming TvN Dramas That Probably Will Have Incredible Ratings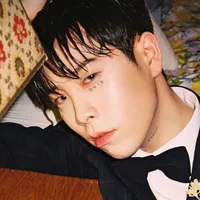 Became a fan of P.O.
You can now view more their stories