Epik High, one of the most talented and the most listened hip-hop group of Korea, released their latest album. There were several songs featured by well-known artists like Hyuk Oh, IU, Simon. D and Mino of WINNER. 
One of the songs in the latest album, "We've Done Something Wonderful ", the song 'No Thank You' is featured by Song MinHo, Simon Dominic and The Quiet. The lyrics are about how people judge others base on extremely subjective standards and to fight for one's way despite such harsh voices. The musicians featuring the song wrote their own lyrics including Song MinHo.
In the lines that he wrote, the word "motherfucker" has aroused the controversy of whether Song MinHo showed misogyny. Misogyny is a complex word to describe discrimination, hatred and looking down on women by men. Some argue that the origin of the swearing contains discrimination and mockery of women, therefore the use of such word should be banned. However, others argue that not a lot of people actually MEAN the literal meaning to just use it to swear. They questioned the people who insist that Song MinHo has misogyny of why they aren't criticizing any U.S. musicians who use the word numerous times in their lyrics. 
The reason why Song MinHo was swept in the middle of the controversy was that he already had a record of writing controversial lyrics in the past.  When he competed in Mnet, Show Me the Money, he rapped a line that said, "Open your legs like you are in obstetrics." This line didn't arouse any debates but only harsh criticism on him and he had apologized for his thoughtless words. 
Again, the word "motherfucker" has put him in the middle of sexual discrimination and hatred controversy. But this time, some argues that condemning the use of such word has gone too far. The controversy doesn't seem to pass easily like other issues in the entertainment since people have grown extra-sensitive of gender issues.  
Must Read : Bang YongGuk of B.A.P Causes Controversy with 'Yamazaki' MV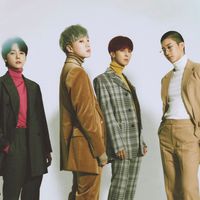 Became a fan of WINNER
You can now view more their stories