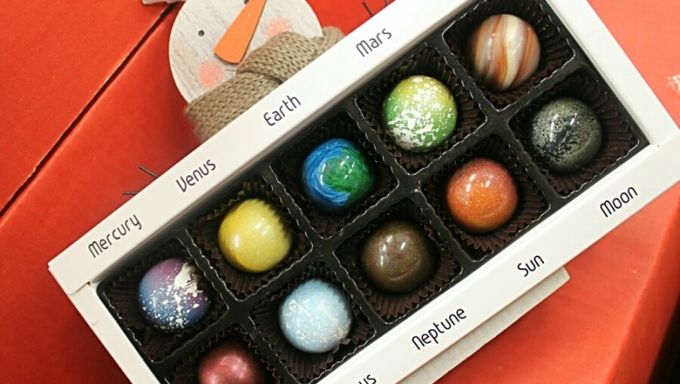 Chocolates are magical. Delightfully sweet and creamy, they can really boost your mood when you're down as well.
It's our pleasure to introduce to you PAPA Dessert's 'PAPA GALAXY' chocolates. As we can already guess from the name, the chocolates come in a collection that represents six of the nine planets of the solar system (Mercury, Venus, Earth, Mars, Jupiter, and Saturn). Where are the other three planets you might ask? We actually don't know either. But we can guess that it is due to possible technical difficulties within the production of the chocolates. And they also did forget to add 'to' in their welcome sign, but we forgive them since they make some of South Korea's most delicious desserts of all time.
'PAPA Dessert' is located in Anyang, South Korea's PyeongChon district. It is widely known as the confectionery mastermind that started the 'planet chocolate' popularity in South Korea. Below is a photo of the owner of PAPA Dessert with K-Pop idol Cha EunWoo of the boy band ASTRO.
View this post on Instagram
And below are photos of the actual 'planet chocolates'. They look artistic yet delicious at the same time, wouldn't you agree?
View this post on Instagram
The chocolates have also received lots of attention and love from MinAh of Girl's Day.
PAPA Dessert also has a wide selection of other types of desserts that include cookies, macaroons, cupcakes, and much more. You can check out their official Instagram page to get updates. Below is the location to PAPA Dessert.
Must Read : Made in Korea: TaeYeon & Banila Co. Takes Over Seoul's Line 2 Metro