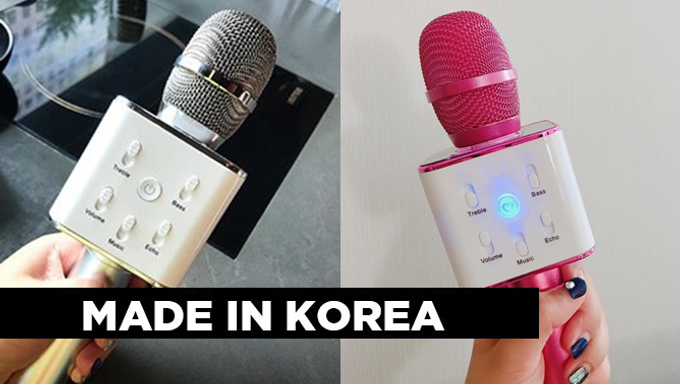 Want to create a professional recording of yourself singing your favorite K-Pop songs from the convenience of your own home? Well, karaoke fans, allow us to introduce you to your new favorite product.
A couple weeks ago, Korean idol actress Sulli had her Instagram followers scratching their heads for a completely different reason than usual when she uploaded a short clip of herself performing a karaoke song from her very own living room. Not only did she look like she was having the time of her life, but all eyes were on her awesome pink wireless microphone.
https://www.instagram.com/p/BYH7zg_B5iN/
The microphone turned out to be the T-Blue Korea Bluetooth Microphone, a special wireless mic with its own speaker that creates a high-quality recording of your performance. A recording studio that fits in your hand? No wonder Sulli seemed so excited.
The microphone comes with a headphone jack for listening to tracks more privately, a USB port for charging and transferring music, and a slot for a T-Flash memory card for transferring as well.
The front of the microphone also has its very own control panel, where you can adjust the track and the microphone's effects to your liking when you're ready to record. We especially love that you can use the control panel to play, pause, and skip through the songs you've loaded.
Perhaps our favorite feature of all is that the microphone can be hooked up to a special T-Blue Korea application, which turns your smart phone into your very own portable karaoke monitor. You can choose from thousands of songs to sing, and follow along with the lyrics as they move across your screen!
Ready to give the mic a try yourself? The microphone is currently available in rose gold, gold, and silver on GMarket.
Must Read : Discover Sokcho: Record Your Own Tracks At This Studio Noraebang