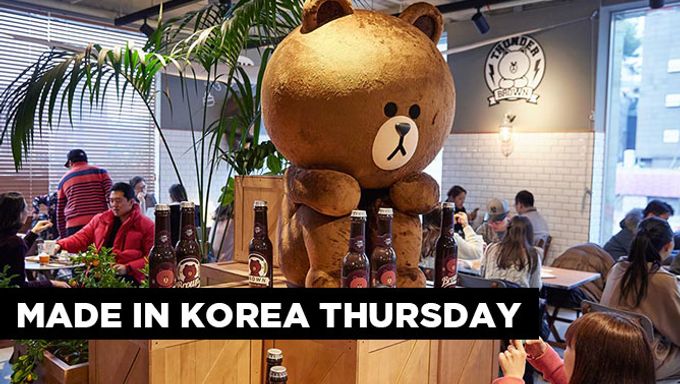 You can now share a bottle of beer or a glass of sweet coco with your favorite LINE Friends Character at the LINE Cafe in Seoul!
A few months ago, we introduced you to the Kakao Friends Store that's full of goodies and products all embed with your favorite Kakao Friends characters. What if I told you there's a place in Seoul that's basically the same store, but with your favorite LINE Friends characters? Amazing!
Must Read : Made In Korea Thursday: Kakao Friends Character Ryan
Let me introduce you to the main even of the LINE Friends Store, called LINE Cafe!
After a long week of work, I needed to plan my stress relieving Friday night. As I perused the internet for fun places to be, I found my paradise sanctuary.
It's a place full of bright and adorable characters that greet you left and right. It's full of adorable items that you never knew you needed before. It's full of all the adorable photo zones to take your next Instagram picture!
It's LINE Friends Store & its LINE Cafe!
The LINE Friends Store in Seoul is located in Itaewon, and is also the headquarter for LINE Korea. The building is fully decorated from top to bottom with LINE Friends, and inside... there's even more!
From phone cases to toothbrushes, LINE Friends Store has all the adorable necessities that you've ever wanted and ever needed!
But the best part about it?
The LINE Cafe.
The LINE Cafe is located in the upper floor of the store, and features the same adorable interior design as the rest of the store. It's a great place to take photos for the SNS enthusiasts, as well as anyone wanting to chill with their favorite LINE Friend!
But no matter how many photos I take, food is what's ultimately going to get me into the store! LINE Cafe is a full cafe that offers a variety of drinks like sparkling juice, coffee, hot cocoa, and more - but the best part is its Brown Beer! The bottled beer is especially designed to resemble the big brown bear, and also features the character on its labels and cap!
Gimmie food! nomnomnom!!
The cafe has adorable, delicious drinks, but it also serves mouth watering snacks to enjoy on your date with a LINE Friend. Sausages, french fries, bagels, pastries and more - it's all you ever needed to spend a fun night in town with your LINE buddy~
I know you're dying inside, because Seoul may be a little too far away to visit. Don't worry! LINE has created its stores and cafes all around the globe. Aside from Korea, they've also opened up impressive stores in Japan and China!
So what are you waiting for?
Share a cup of coffee or a bottle of Brown Beer with your favorite LINE Friend!