There have been many successful K-Pop idols from successful groups who've done just as well on their own.
G-Dragon, TaeMin, Zico, TaeYang, and the list can go on and on.
However, we haven't been able to see as many idols venturing out as solo artists compared to the past. It seems that now that K-Pop has become a world-wide trend, the collective mindset from the Korean culture seems to have also become something consumers subconsciously value as well, which is why we believe there aren't as many idols shifting towards a solo career.
Even so, here are some idols who we think has what it takes to become a successful solo act.
Park JiHoon (Wanna One)
Considered one of the cutest members of the hottest K-Pop boy groups of this generation, Park JiHoon is pretty much every South Korean girls' heartthrob. We have a feeling he'd do especially well as a solo ballad artist.
Hwang MinHyun (Wanna One)
Hwang MinHyun is easily one of the most popular Wanna One member at the moment as his beautiful physique and charismatic good looks have captured the hearts of many women of all ages in South Korea. Because he is able to pull off both charming and sexy concepts well, he'd do well as both an R&B and ballad artist.
Woozi (SEVENTEEN)
Having composed and produced a handful of SEVENTEEN's music, Woozi is a natural born talent in production and performance.
Song MinHo (WINNER)
YG Entertainment's gem Song MinHo is undoubtedly WINNER's most popular member. There are many similar qualities about Song MinHo like his senior G-Dragon of BIGBANG, which is why it doesn't seem like a bad idea for him to focus on a solo career.
If you feel that there are others that we might have overlooked, please feel free to share below!
Read More : Sakura Miyawaki Caught Up In Producer's Pick Controversy On Produce 48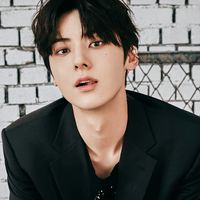 Became a fan of MinHyun
You can now view more their stories