A great day for MAMAMOO but not so much for rookie idol boy group T-Bird as the latter recently has been getting a lot of criticism from MAMAMOO fans for being rude and disruptive towards the girl group.
MAMAMOO recently won first place on 'Music Bank' on March 29th with their single 'gogobebe', raking in 4,691 points.
All the other K-Pop acts then began congratulating MAMAMOO, with rookie boy group T-Bird suddenly stepping in the spotlight, handing them bouquets. However, viewers of the show and fans of MAMAMOO were not happy with the way they did it.
You can check out the video clip below.
Fuck T-Bird this is so disrespectful to MAMAMOO one of them even shoved Wheein pic.twitter.com/motrWvMAPe

— A Celebration Of Life (@JihyosSunshine) March 29, 2019
T-Bird then released an apology through Twitter after having received a lot of criticism.
안녕하세요. 티버드입니다.

오늘 음악방송에서의 결례에 대해 마마무 선배님들과 관계자 여러분, 그리고 무무 여러분들과 불편함을 느끼셨을 모든 분들께 진심으로 사과드립니다. pic.twitter.com/8GMhEz2CbB

— 티버드 (The T-Bird) (@odent_thetbird) March 29, 2019
Do you think T-Bird were rightfully criticized? We leave that up for you to decide!
Read More : Upcoming K-Pop Comeback & Debut Lineup In March 2019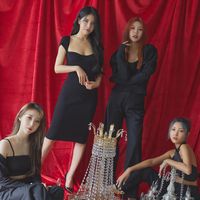 Became a fan of MAMAMOO
You can now view more their stories