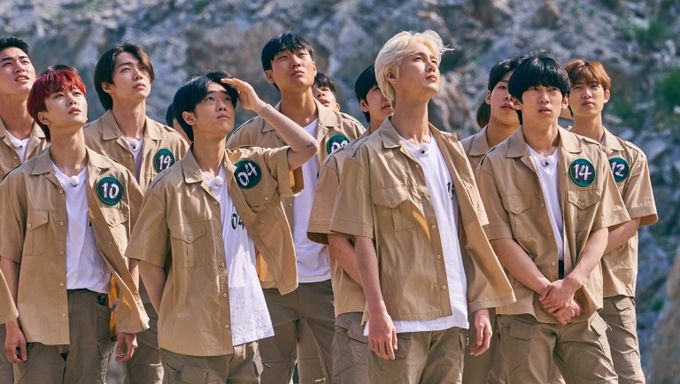 "Extreme Debut: Wild Idol" is the latest MBC survival show that will result in the debut of a new K-Pop boy group. The show has had netizens talking because it takes an extreme approach to audition programs. There is a big focus on the physical strength of the idols and fans have been wondering if it is necessary to take it to that level. 
There are 45 contestants. 14 of them will become finalists and then 7 of them will debut in a group as winners of the show. The show has rules like the contestants not being able to ask each other's names, ages, or each other's past. Each contestant is called by a number instead of their name. They have to earn their name being revealed. 
There is also an extreme point system out of 1000. Most of the 600 points are for their skills (singing, rapping, dance, and visuals), 300 points are for their physical fitness, and only 100 points are for online popularity. This means that the debut team will be chosen mostly based on skills.
During the first episode, that aired last week, some contestants made big impressions on each other, the panelists, and fans. Here they are.
Warning: This article may contain spoilers for episode 1 of "Extreme Debut: Wild Idol"!
When contestants were asked who made big first impressions on them, they named the following contestants:
Number 17
Because he just seems like he has an adorable personality.
Number 29
Because he is incredibly tall and buff.
Number 31
Because he looked hungry to win.
The other contestants who stood out during the show (for their abilities or for funny moments) were:
Number 45 - Heo SeungMin
He won the warm-up mission and was the first contestant to have his name revealed. He also made an impression for his hair. One contestant described his hair to look like a dish of noodles which had the panelists laughing.
Number 22
He was in second place for the first stretch of the warm-up mission but placed third in the final ranking for the first mission.
Number 21
He placed second in the final ranking for the first mission.
Number 14
This contestant had the panelists laughing because of his facial expressions. He seemed slightly clumsy, wearing his gloves the wrong way around by accident, and also didn't show many reactions. However, he did well in the physical squat challenge, surprising everyone. Choi TaeHyun even called him a candidate to become a 'variety show idol'. 
Number 40
He made an impression for looking fragile compared to his actual physical ability and doing over 100 push-ups in the rock push-up challenge.
Number 37 - Jang JuNa
He was really struggling towards the end of the push-up challenge but kept pushing himself past his limit, earning admiration from the other contestants. He has been a trainee for 5 years and says that he realized that he is competing against himself, not other people. 
Number 02
He also got dubbed as a contestant with the potential to do well on variety shows due to his ambition to do well but ending up with funny moments instead.
Number 23 - Baek JiHoon
He was also a lucky contestant who got to reveal his name by winning the agility round.
Number 33 - Lee ChangSun
He was lucky enough to get to reveal his name for winning the endurance round.
Although each contestant on the show definitely has their own charm, these are only some of the contestants who stood out in the first episode. 
Which contestants made an impression on you? Who are you rooting for?