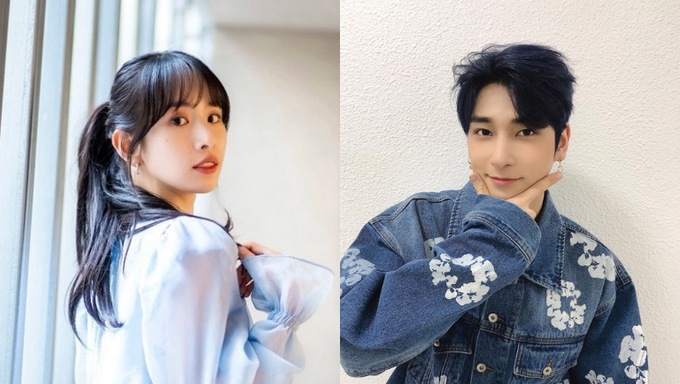 "Love in Black Hole" is a web drama that was released on Sep. 17, 2021, at 6 PM KST. Fans have been anticipating the drama's release since the cast was announced!
The drama stars BAE173's HanGyul, WJSN's SeolA, SF9's JaeYoon, BAE173's DoHa, and DIA's HuiHyeon. It is a star-studded idol drama! In recent interviews, each of the cast members described their character.
BAE173's HanGyul - TaeYang
In the script, his character, TaeYang, is described as a brightly shining man, as EunHa's male friend and an astronomy major but his position in the faculty is vague.
HanGyul described TaeYang as EunHa's close friend who loves music and wants to share it with everyone. He says that they are similar because they both love music in a passionate way.
WJSN's SeolA - EunHa
In the script, EunHa is described as a girl who is the only one who doesn't recognize her own charms. 
SeolA described her as a very bright, smart, and refreshing person who loves jokes. SeolA says they are the most similar because in front of people they seem really bright and outgoing, but when they are alone they think very deeply and seriously. 
SF9's JaeYoon - SungWoon
In the script, SungWoon is described as a natural sciences major who can always be found in the library, and has a serious personality but is still cool. 
JaeYoon described him as standoffish but he is actually warm. SungWoon was also hurt because of dating in the past so, he became closed off to people but EunHa has managed to open his heart a little bit. He is a cool and popular guy. JaeYoon says that they are similar because they both work hard and look cold when they are focusing.
BAE173's DoHa - HaeMyung
In the script, he is described as a young beagle, probably super popular, a bit of a gossip, and the ENFP personality type.
DoHa describes HaeMyung as a person who has just entered university as a freshman. He likes EunHa but can't express it well. He has a lot of aegyo and is very cute. DoHa says that he is similar to HaeMyung because they are both playing the role of young characters in their cast and team. 
DIA's HuiHyeon - Anna
In the script, Anna is described as the goddess of the music college/university but is actually a history major, TaeYang makes her concerned, and she doesn't want to miss her dream or love. 
HuiHyeon describes her as having a cool personality and knows how to express her feelings well. HuiHyeon says they are similar because they can express their concerns honestly.
What do you think of the characters? Will you be watching "Love In Black Hole"? Did you watch the first episode?