"Melting Hearts" series is back with a new actor to introduce. This week the spotlight is given to Seo JiHoon.
Seo JiHoon was born in 1997 and is 184cm. He previously acted in dramas such as "School 2017", "Prison Playbook", "Tale of Fairy", "Flower Crew: Joseon Marriage Agency" and more.
The actor is now acting as the second lead role in the new drama "Meow, the Secret Boy". He is acting as Lee JaeSun who is a hardworking owner of a coffee shop and workshop. He has known the lead female character SolAh acted by Shin YeEun for 10 years. In the drama, Shin YeEun had a long one-sided crush for him.
With the two first episodes, it seems like a part of the viewers will have the Second Lead Syndrome (SLS) because of him. Here are 5 reasons appearing in the first two episodes hinting us that we will probably fell for him in the next episodes.
Be aware of spoilers up to episode 2.
1- The way he cares about the cat
Seo JiHoon's character looks like a trustworthy and caring man as he deeply cares about the cat firstly named Sergei Rachmaninoff then HongJo acted by BaeKi. He previously offered the cat to his girlfriend but they broke up and she gave the cat back to him.
He is allergic to the cat (even crying because of the fur) but carefully holds it and tries to find a new house to the cat. In the first two episodes, he paid special attention to the cat especially choosing foods for him.
2- Heart fluttering kiss scene
Seo JiHoon in the drama has the vibes of a seductive boy. He seems cold and unexpressive but when it comes to express his feelings he seems quite direct.
The most memorable scene was the heart fluttering kiss scene on the bench by the water. Smiling and with flirting eyes, he told Shin YeEun that she was blushing and kissed her.
However, there is a need of explanation about his sudden action: why he never dated her after? And why he did not clarify his feelings for her? These questions are still to be cleared or he might become just a boy playing with the feelings of a sincere girl.
3- Diligent boy with a difficult (?) background story
It seems that as the drama goes through we will learn more about Seo JiHoon's pains and past. His character seems to have an interesting story to tell. Concerning his personality, he is a diligent and serious person. He opened his own business and is working hard to make it work. He looks cool.
4- The opposite personality of Kim MyungSoo
At the opposite of impulsive, clumsy, and cute cat transforming into human HongKo acted by Kim MyungSoo (INFINITE's L), Seo JiHoon is more down to earth and ... a real human. Viewers would have a hard time choosing between the two boys.
5- Definitely some feelings between these two
Seo JiHoon is caring for Shin YeEun and that more than like a friend for example when he touched her cheeks and noticed she had a fever.
There is this something between these two and not only from Shin YeEun's side.
Can you feel that you will have the SLS for Seo JiHoon in the drama?
Read More : Melting Hearts: Tsundere Kim YoungDae Gives Butterflies To "When The Weather Is Fine" Viewers
Read More : Melting Hearts: Model Jung HaJoon Acting As Handsome Hacker In "Memorist"
Read More : Melting Hearts: Cute Lee JaeWook Brings Smile To Viewers In "When The Weather Is Fine"
Read More : Melting Hearts: Boxer & Underrated Actor Ahn BoHyun From "Itaewon Class" & "Her Private Life"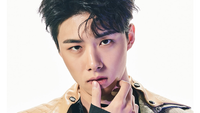 Became a fan of Seo JiHoon
You can now view more their stories