Do you like dancing or are you interested in watching dance choreography? If you are, you are definitely in the right place as today we will be looking deeper into choreography of K-Pop idol groups.
Because of the large amount of K-Pop groups which had made their comeback in February, Kpopmap finally has the chance to cover the choreography for Weki Meki's 'DAZZLE DAZZLE'.
Weki Meki has returned with a fun and energetic new track and many are loving the creative and innovate dance moves for 'DAZZLE DAZZLE'. Make sure you take a look at their dance practice video below.
One of they key points of this choreography is probably the part where the girls go 'dazzle dazzle dazzle'.
In order to execute this move, you actually need a lot of balance because you will be standing on one feet! At the same time, it is difficult to coordinate both your hands and legs as they have to move at the same time.
It looks like this is not the only dance moves which require coordination as another part of the choreography also required the concentration of the girls.
Aside from these movements, you can also see how this choreography makes quite a fair bit of symmetric moves.
When member YooJung was seen in the center, the other members also surrounded her with moves that mirror each other. It shows the perfect symmetric shape!
Of course, we also wanted to point out the part when member DoYeon is singing her part.
The sudden switch in tune of the song and the lowering of the levels of the choreography also show a change in the overall atmosphere.
Finally, another cute and movement which allowed the girls to change their positions.
The choreography for 'DAZZLE DAZZLE' is indeed a very cute and lively one which suits Weki Meki.
Which part of the choreography do you like the best?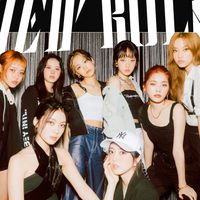 Became a fan of Weki Meki
You can now view more their stories