Do you like dancing or are you interested in watching dance choreography? If you are, you are definitely in the right place as today we will be looking deeper into choreography of K-Pop idol groups.
DREAMCATCHERis currently promoting their track 'Black Or White' on various music shows and their minimal concept had captured the attention of many K-Pop fans.
Just like the title of their track, the girls were dressed basically in all black or all white. Dingo Music had released a special dance performance video of DREAMCATCHER and if you have yet to check it out, you can do so below.
Today, Kpopmap will be showing a few points of the choreography which we thought was interesting for viewers and K-Pop lovers.
First up, one of eye-catching steps is during the chorus when the members were using their palms while covering almost half of their face. At the same time, they were able to transit smoothly with easy foot steps, front and back.
The simple steps allow many to focus mainly on their face as their hands were attracting the attention of the viewer.
Moving on, the bridge of the song is also another part which had received the love from many fans.
Making use of everyone, the choreography needed each and every member of DREAMCATCHER to come together in the middle of the stage. They form an intricate pattern and beautiful lines while leader JiU is in the center.
After the part where main vocalist SiYeon hits the high notes, the following dance break was also very captivating.
One after another, different members repeated the steps, giving off a canon effect.
Near the end of the song, we also cannot forget to touch on how the girls were in a straight line and dancing repeatedly in twos.
It is interesting to see how they repeated the action with the two members who were positioned at the outer corners before coming towards the center.
Compared to their title track, 'SCREAM', this song is more calm yet addictive. It shows how DREAMCATCHER is also able to pull of such concepts and many of their fans are also hoping to see them take on different styles too.
Which part of the choreography is your favorite?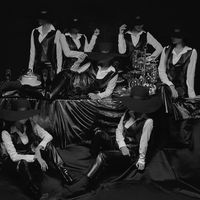 Became a fan of DREAMCATCHER
You can now view more their stories