Do you like dancing or are you interested in watching dance choreography? If you are, you are definitely in the right place as today we will be looking deeper into choreography of K-Pop idol groups.
Powerhouse girl group EVERGLOWreturned with their 1st mini album "Reminiscence" and title track 'DUN DUN' on Feb. 3 and if you are curious to see what took place during the comeback showcase, you can check out Kpopmap's review here.
Ever since their debut back in 2019, they have been impressing many with their powerful and unique dance moves in both of their singles 'Bon Bon Chocolat' and 'Adios'. With the return with 'DUN DUN', fans were once again blown away by how amazing the song as well as the dance are. You can check out their music video below.
They began straight into the choreography as the music begins and member YiRen gave chills to many as she stomps her foot with the other members appearing behind her with every step.
With the members spreading out into a V formation, it somewhat shows off the fact that the girls are ready and prepared to 'fight' for something that is about to happen.
Another part where we could not help but point out is the part before the introduction of the chorus.
Once again, YiRen is leading the rest of the members and swaying side by side. While doing that, she sings 'You're so done' which somehow gave an eerie chill before what was about to come next.
'The calm before the storm' seems to be an appropriate term for this section of the choreography as the girls gave us a good shock when they 'exploded' with energy in the next moves.
Next, we also see 4 members doing a different set of choreography that required some floor movements.
Mia, E:U, Aisha as well as YiRen were seen pulling off some difficult steps on the floor and they did not fail to amaze us with how smooth they were able to connect the moves.
Coming near the end of the song, Mia brought the atmosphere to a higher level when she emerged with a solo dance break.
Once again, Mia's impressive transition from her knees on the ground to hopping up also immediately had almost everyone shocked. It was so smooth that many were amazed by how she had pulled if off easily.
It is definitely not an easy move and if performed incorrectly, one's knees could suffer from potential injuries too.
With that being said, EVERGLOW had once again proved that they are able to pull off dynamic and catchy moves. They did it with their own style and had once again impressed many with their abilities.
Are you also loving EVERGLOW's 'DUN DUN'?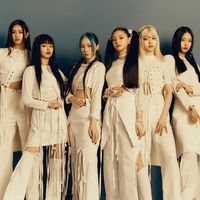 Became a fan of EVERGLOW
You can now view more their stories