Do you like dancing or are you interested in watching dance choreography? If you are, you are definitely in the right place as today we will be looking deeper into choreography of K-Pop idol groups.
ITZYhad returned with a new hit and addictive dance track 'WANNABE'! If you have yet to check out their new song, you are definitely missing something good. Take a look at their dance performance video by Mnet "Studio Choom".
It seems like many K-Pop fans are in love with this choreography as they had already uploaded their dance covers on YouTube. They are not wrong as Kpopmap is also loving the dance choreography too.
To start off, leader YeJi was seen in the middle and the rest of the members were going around her as if she was opening a musical box. Her actions matched the music and it gives a rather interesting start.
Another of the highlight of 'WANNABE' is probably the part where member RyuJin starts the song with her shoulders isolation. It had impressed many when she was able to move her shoulders quickly while singing at the same time.
Needless to say, it also gave chills when the other members follow and move their shoulders too.
Moving to the chorus, one of their point dance moves is the part when the lyrics go 'Me me me'. It is also a part where the members had pointed out that they like it a lot as their hand goes around their face.
As the song moves to the first dance break, the dynamic and synergy of the girls as well as the choreography were impressive.
At the second part of the dance break, ITZY definitely did not give us a chance to breathe as they were all out dancing. The difficulty of the dance break is also considered to be rather high level but the girls had once again pulled it off.
The ending pose of 'WANNABE' is also smooth and creative as the girls gather together and 'placed' crowns on each other's heads.
If you recall, their previous title track 'ICY' also had a similar ending. This suggests that ITZY might be continuing with such ending poses for future songs too.
It seems like ITZY is killing the charts every time they made a comeback and they are once again leading the K-Pop scene with their chic and girl crush concepts.
Which part of the choreography caught your attention the most?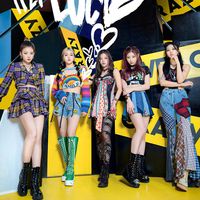 Became a fan of ITZY
You can now view more their stories