There is no denying that idols are human just like us. Just because they have faces and bodies that seem to be made by a craft man while we were made in a factory, they are human just like us (surprise!).
Since they are humans, just like we are, they go through some moments of life as we do. The brief moments that make us human such as frowning after biting something cold, getting exhausted after moving excessively, having thoughtless blank moments, are also caught with idols and fans just dig for those moments.
It's true that we are fascinated by unrealistically beautiful looks and actions of idols, however, it is also true that their realistic behaviors make us fall in love with them more.
So, here are some "HUMANISTIC" moments seen from SungKyu of INFINITE and Solar of Mamamoo! we move down the escalator 
The thing we always do when we move down the escalator. (feat. SungKyu's feet)
Exhausted after moving excessively. The model poses we see on magazine saying that they are "RESTING" are all so fake. This is how we really rest.
When our power goes off in the middle of the day.
Having thoughtless blank moments even though the cameras are on.
Frowning when we eat something too delicious to be true.
When the popsicle is too cold and hard to bite.
Must Read : Funny Moments and Funny Facial Expressions Caught from Korean Celebrities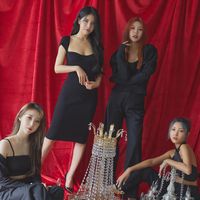 Became a fan of MAMAMOO
You can now view more their stories