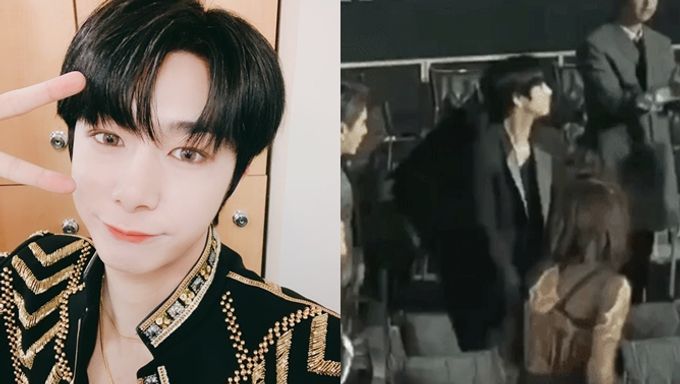 "The Fact Music Awards 2019" (TMA) was held on Apr. 24 and many idols have attended. Kpopmap was at the red carpet, if you missed our exclusive pictures, you can check them here.
On that day, MONSTA X was attending the ceremony and won two awards: Artist of the Year and Best Performer. But that was not the only subject of talks yesterday among MONBEBE.
In K-Pop community, even among non-MONBEBE, HyungWon's gifs are popular and famous. The idol is often titled as the "living meme" or "king of meme". He is the author (?) of legendary gifs. Here are some examples below, for sure you would have already seen them.
At the ceremony, HyungWon made a new masterpiece! As MONSTA X was announced as the winner of Best Performer and they stood up to get the award on stage. While all the members stood up without issue, HyungWon seemed unstable and almost fell down but KiHyun caught him.
Fans commented: "It was all too much for HyungWon", "This is MONBEBE when they announced the new album", "Watch this becoming a viral meme", "A new HyungWon meme gif worth saving", "Me when HyungWon posts a selfie", "Anemic people be like but hey HyungWon are you alright?", "Chae [HyungWon's last name is Chae] meme", "KiHyun be like "Boy you were just standing"", "Meme side of HyungWon made a comeback", "He's back again with the memes", "I'm laughting so hard, sorry HyungWon and I love you", "Our lord, our saviour, our meme king HyungWon did not disappoint us at the Fact Music Awards. He blessed us all with an epic 'stumble'", etc.
HyungWon seemed to have created once again a viral meme. Time will tell if it becomes a legendary meme.
Do you also like the gif?
Read More : MONSTA X's WonHo Might Have Worn His Sexiest Outfit At 'WE ARE HERE' Seoul Concert