MONSTA X 's KiHyun is just too adorable that netizens had to notice this.
On an online community, netizens posted about KiHyun being the victim of being used to fans' planned comments.
In the fandom, MONBEBE usually likes to have fun discussions with KiHyun in fan signs where they exchange cheesy lines or the fan make a funny wordplay to praise KiHyun or make him become their fiancee. For example, a MONBEBE will say I came with my boyfriend to the fansign, KiHyun would look surprised and the fan will just show a mirror to him. You get it? There are so many hilarious situations.
KiHyun is often impressed by them and likes to go along with the fans' stories.
However, he is so used to them that when a fan is not making one of these, it turns quite funny…
Here is one misunderstanding that happened at a fan sign during 'Alligator' promotions.
KiHyun: "If someone is handsome, he is an oppa"
Fan: "Yes, KiHyun"
Here is one recent interaction that happens during a fan sign during 'FOLLOW' promotions.
Fan: "KiHyun, 3 years later, I am getting married"
KiHyun: "With me?"
Fan: "No no!! With the person who is going to be my husband"
Netizens commented: "With me? hahahahaha this is cute", "With me? hahahahaha ah this is crazy, so cute", "Hahahahahaha", "The fan was a bit misleading hahahaha", "Cute", and much more.
Are you falling even more for KiHyun's charms? You might be just one of his next numerous 'victims'. Like his signature warning: "Be careful of KiHyun" ("KiHyun JoSim"). Once you fall for him, it is too late.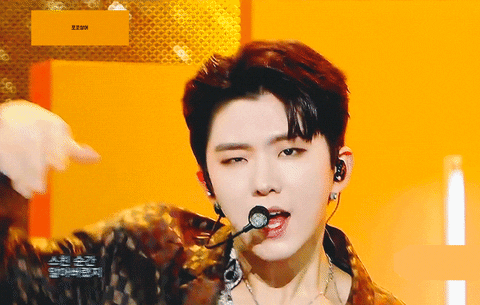 Read More : MONSTA X's KiHyun Mentions That ShowNu Lose Lot Of Weight For 'FOLLOW' Comeback