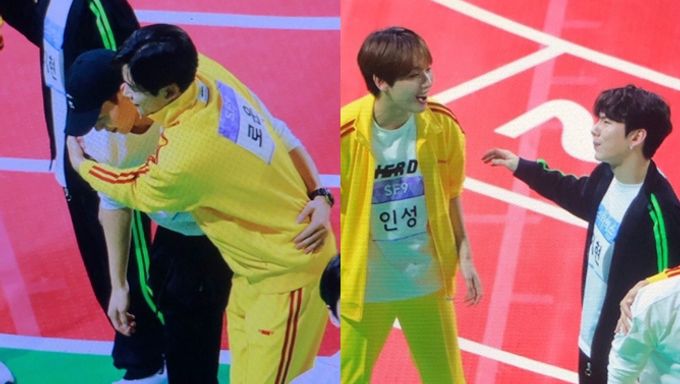 "ISAC" or Idol Star Athletics Championships is always a hot topic in K-Pop community. This "ISAC 2019" Seollal is getting fans excited with an incredible lineup (you can check it here).
Yesterday, January 7th, was the recording day of the show. As always fans could not help but noticed cute interactions between groups. Seeing interaction between idols of the same company is always a happy thing but it is even more when they are from different companies.
On that recording day, fans noticed that SF9's RoWoon went on to MONSTA X's ShowNu and hugged him tightly and with warmth. They both looked very happy to be meeting each other and both were smiling brightly.
And then, RoWoon seemed to be saying "let's contact" or something similar.
For those of you who might not know, both of them were previously together on the TV show "Lipstick Prince" and got closer.
On the back of the pictures above, KiHyun and InSeong can be seen talking too and they look close. They even hugged on that day.
SF9 and MONSTA X's fans cannot help but find these interactions adorable.
Did you notice more interaction between these two groups?
Read More : The Reasons Why Everyone Is Waiting For The Season 3 Of "Lipstick Prince"