BTS fandom ARMY are perhaps the best when it comes to bringing forth fan theories as they seem to be quite talented story tellers like the idols themselves.
With the recent release of 'ON', ARMY have been getting right down to business discussing possible scenarios and plots by analyzing the MV.
You can check out some of the fan theories so far.
Jin Can Travel Through Time & Rescued Everyone
Jin did not magically make that bird revive. He went back in time.See how surprised he was and looked out when he saw the cage move Those people behind them were the people who were dead at the beginning of the MV.He went back in time and saved everyone!#BringItON #ONMusicVideo pic.twitter.com/RjE4HeUWfn

— ʙᴀɴɢᴛᴀɴ ᴛʀᴀɴs & ᴘɪᴄs ⁷ (@leys_ash) February 27, 2020
J-Hope Is From The Future
So did Hobi leave the future to come help the rest of the them. He is not wearing their type of clothing and in Ego he was driving away from the future??? #ONVIDEOPARTY pic.twitter.com/4pdtAixul0

— melanie (@purpleheart4V) February 27, 2020
Hobi showed us the location weeks ago in Outro: EGO #ONVIDEOPARTY pic.twitter.com/WLKj98zdS1

— ece⁷ (@plzdontletmefly) February 27, 2020
V Is Going To Mutate In To A Zombie Soon?
in maze runner series, if you got stung by a Griever, patterns like these will appear before the victim turns vicious and slowly dies. taehyung has that pattern on his neck which means he is INFECTED. ((im sorry for inserting newt here ?#BringItON #ONVIDEOPARTY pic.twitter.com/cNGe1Hhf0P

— kimberly ⁷ (@jhopesyouth) February 27, 2020
'ON' Carries From Where 'FAKE LOVE' Left Off
[Theory] -

In Fake Love, the wall falls on them preventing them from following their dreams and in ON, the wall opens so that they can reach the top.#ONVIDEOPARTY@BTS_twt pic.twitter.com/5Y03CYo2wu

— Τrαηslατσr ?? ?? ?? ? 태국뷔국 Iηηєя ƇнιƖɗ/ON ⁷ (@TK_Tannie) February 27, 2020
Shaman
okay so I've seen no one talking about Jimin's part so I'm coming with theories : the little kid can represent a shaman, that through a ceremony called Sámi Drum, used drums to get into a trance to obtain information from the future or other places pic.twitter.com/T26gf8s0FV

— #?????⁷ ✩ (@innerfriendz) February 27, 2020
Portals
So uh my theory is that they are separated through these big walls and they find eachother when opening them. Making them like Portals. And in Fake love Jungkook is the one who puts on the mask and we focus on him and in On it's the same with the conch. & THE HOODs #ONVIDEOPARTY pic.twitter.com/t1eND82v7o

— °•.♡Emily_BlackSwan♡.•° (@x_emilllly) February 27, 2020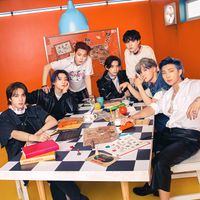 Became a fan of BTS
You can now view more their stories